Overview
Product Parameters:

Voltage
AC 120V
Product dimension
13"D x 19.7"W x 2.6"H
Power
900W+900W
Item weight
7.89LB
Frequency
60Hz
Burner Type
Ceramic
[All Types of Cookware] Cookware size range is 7.1''+7.1'', including glass and aluminum, which can effectively heat the cookware while minimizing heat loss.
[Convenience] No matter where you are, as long as you plug in the power supply, the electric stove can be used, which can be used in RV, office or back garden, etc.
[Adjustable temperature control] The electric furnace has overheat protection function and high safety.
[Easy to Clean and Durable] The stainless steel body can be used frequently and easy to clean, and the ceramic cooktop is durable.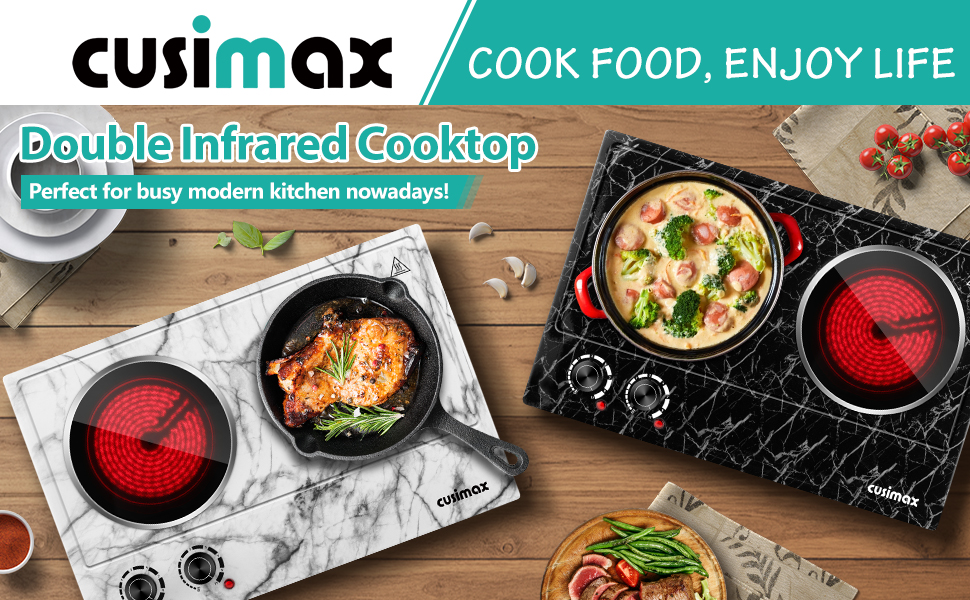 CUSIMAX Hot Plate is powerful enough to use as an additional solid burner to warm sauces, fried chicken, make soups, boil water, cook pasta and vegetables and do so much more with the double heating plates simultaneously, just as if it were a normal stove.
The hot plate is equipped with individual variable temperature dials. Simply turn the control knob to the desired position, it will maintain the steady temperature for your cuisine until the setting is changed.
Our Infrared Cooktop is equipped with thermal fuse for overheating protection. When it reaches the setting temperature, it will automatically cut off for few seconds and back to the original setting. It is used to care about over heat and avoid potential hazard.
Also 1 meter power cord is another highlight to avoid dangerous. Non-slip rubber feet ensure that the hot pate stays firmly in place for safe use.
BLACK MARBLE STAINLESS STEEL INFRARED BURNER

Double Countertop Burner

CUSIMAX Double Hot Plate is allowed to cook anywhere with 120V electricity outlet.

Provides you extra countertop cooking options.

Double plates can cook different dish simultaneously. It's extremely suitable for those less of space or need extra burner.

Cusimax is a PROFESSIONAL munufacturer of kitchen household appliances for over 12 years. It sells a wide variety of products, including electric hot plate, electric grill, stand mixer, toaster and so on. No matter what you choose, it will provide convenience for your daily and let you enjoy all kinds of delicacies.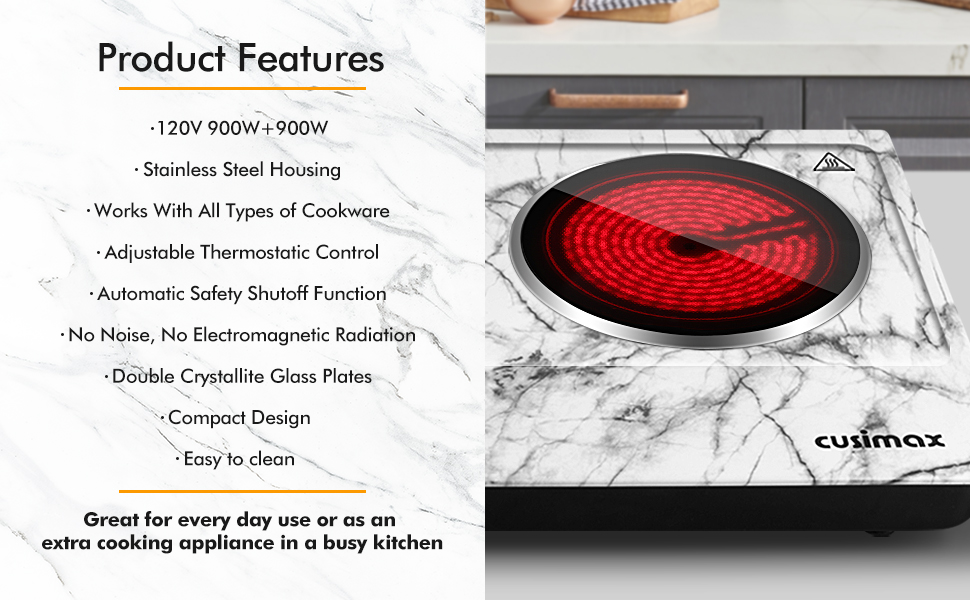 CUSIMAX hot plate is equipped with 900W and 900W heating elements with full-range thermostatic control knob is compatible with all types of cookware in diameter of 7.4", powerful to fry, boil, deep-fry, simmer as well as keep food warm for serving.
The compact and portable design is the highlight of our Cusimax Double Hot Plate. It is not only adding cooking space to your kitchen but compact enough for storage.
Whether it's your home kitchen, apartment, RV, office or back garden, it can meet your different needs, and it is convenient for cooking in a smaller space.
The high quality double crystallite glass plate and stainless steel housing fit the busy modern kitchen nowadays.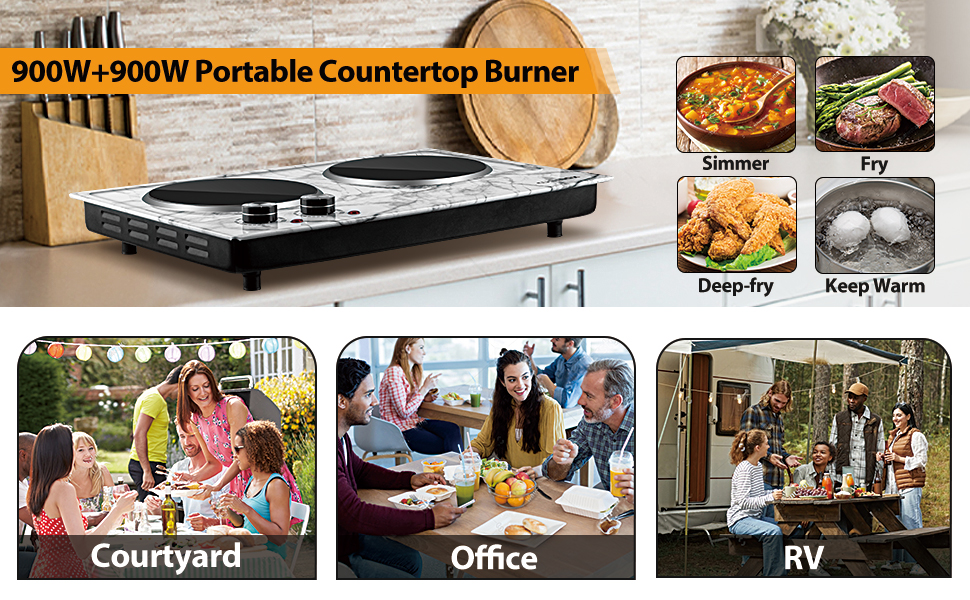 High quality crystallite glass plate and durable stainless steel body

Work with all types of cookware.

Aadjustable thermostat control and indicator light.

Bottom is equipped with anti-skid feet, ensures the stability of hot plate, preventing the electric stove from moving during cooking.