Item weight:5.62KG
Product parameters:220V/50Hz 1600W
Product Dimensions: 16.14*18.90*13.19(IN)
Grillez n'importe où - Le gril électrique portable idéal est doté de deux poignées résistantes à la chaleur pour faciliter le déplacement. Il est idéal pour une utilisation à l'intérieur et à l'extérieur et vous permet de passer du patio au comptoir en un rien de temps. Vous pouvez maintenant faire des grillades dans des appartements, des patios, des balcons, n'importe où, sans vous soucier du charbon de bois, du propane ou des flammes nues.
Chauffage rapide - Avec une puissance de 1600 W, notre gril de table se réchauffe en quelques secondes sans préchauffage. La prise avec le contrôleur de thermostat et le couvercle avec l'évent d'air coulissant pour un contrôle facile de la température, apportant une saveur fumée à votre barbecue. Il est également formidable que les aliments grillés restent longtemps chauds sans brûler grâce au couvercle, même après la cuisson.
Profitez d'un délicieux barbecue - Équipé d'une grille de cuisson de 37 cm et d'une grille chauffante supérieure pliable, vous pouvez faire griller davantage d'aliments et placer les aliments grillés sur la grille pour les garder au chaud. En outre, la conception du bol et du couvercle emboîtés peut isoler la chaleur, rendre la grillade plus rapide et plus uniforme, les aliments seront particulièrement juteux, tendres et croustillants.
Facile à nettoyer - Vous pouvez mettre une couche de papier d'aluminium sous le filet du gril à l'avance, ce qui permet de récupérer l'huile et peut également être jeté juste après le gril pour un nettoyage plus facile. La surface du gril peut également être essuyée et nettoyée une fois qu'elle a refroidi. Toutes les pièces peuvent être démontées, ce qui facilite le nettoyage.
Ce que vous recevez - CUSIMAX Electric grill Table grill est livré avec le grill, les accessoires et le manuel d'utilisation. Nous offrons une garantie de 18 mois et un service clientèle gratuit à vie. Si vous avez des questions ou besoin d'aide pendant l'utilisation, n'hésitez pas à nous contacter par e-mail.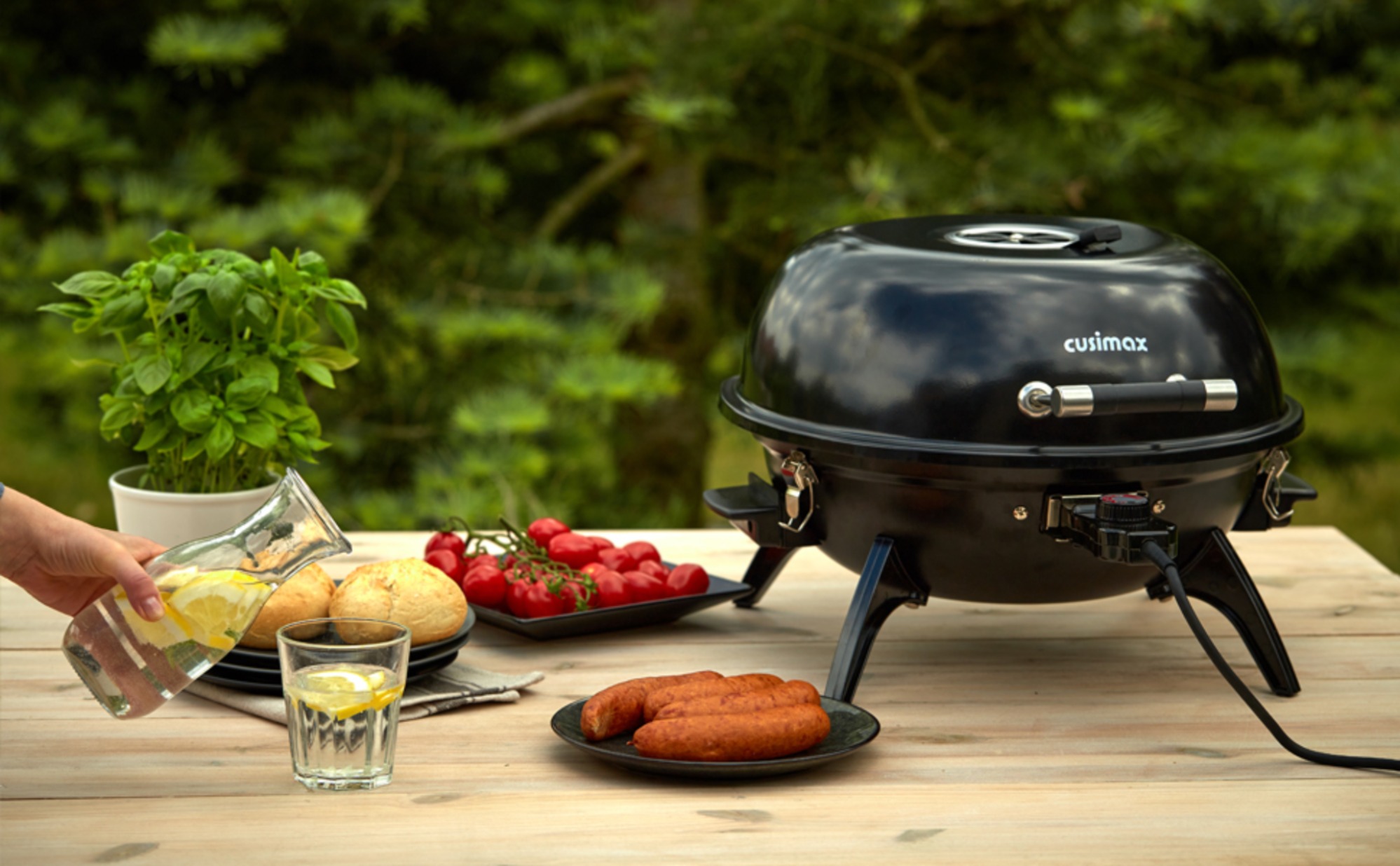 Cusimax electric grill table grill with 1600 watts power, heats up in seconds without preheating. There are no unhealthy deposits, propane or open flame like the charcoal grill, which makes grilling safer especially when children are nearby.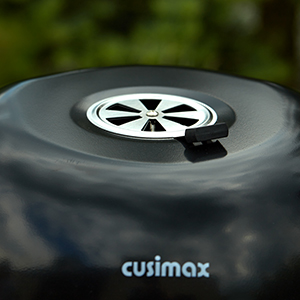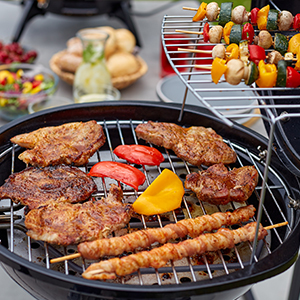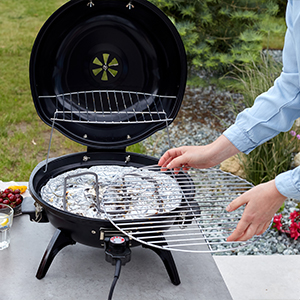 1.vent----The lid with sliding vent for easy temperature control brings smoky flavor to your grill.
2.cooking grill----Equipped with a 37 cm grill grate and the top folding warming rack, you can grill more food and place the grilled on the grate to keep it warm.
3.Easy to clean----All parts can be dismantled, making cleaning a breeze.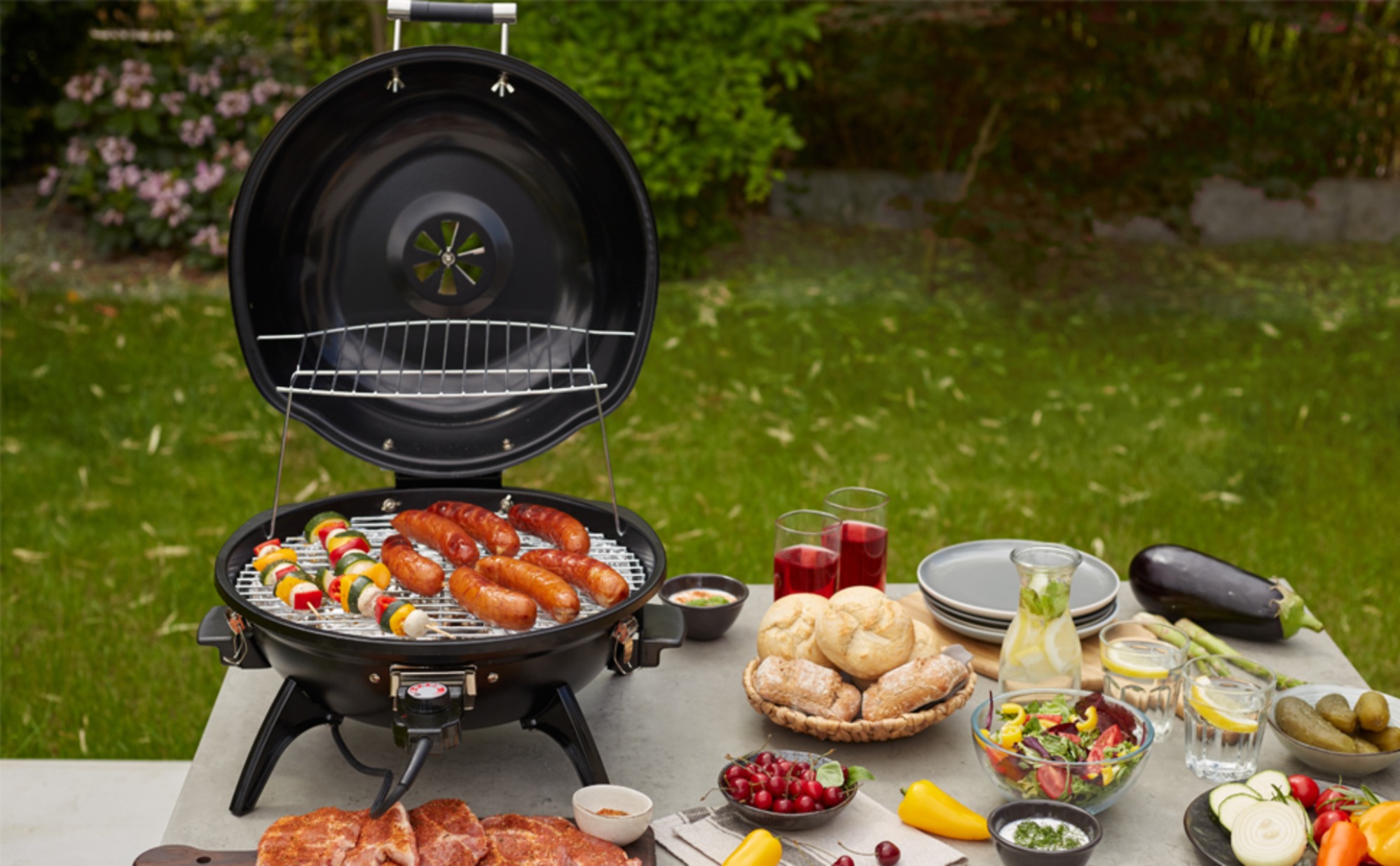 This portable table grill with two heat resistant handles is easy to transport and can be taken from the patio to the countertop in no time. Ideal for apartments, patios, balconies, anywhere.