Product parameters: 220V/50Hz 1700W
Item weight:11.3 KG
Product Dimensions:14.96*14.76*12.99(IN)
[16-in-1 Smart Machine] A quality dual air fryer oven is a lifesaver for busy cooks. This multicooker is a faster, easier alternative to air fry, bake, grill, roast, toast, dehydrate and rotisserie, even with a temperature range from 40°C to 220°C. What's more, it only takes up a fraction of the kitchen space with the compact body.
[Family-Size Cooking Space] The air fryers features a super spacious 14.5L capacity, the perfect choice to serve a large family or entertain guests. Our actifry has two layers that you can cook for different foods simultaneously, which is a great advantage over convention oven. Make a tender rotisserie chicken and various vegetables like potatoes, mushrooms, beans, cauliflower, or your favorite family meal in one step. Free your hands and enjoy life better.
[Superior Convenience Actifryer] 16 preset options make any kitchen task easy from frying and roasting to dehydrating and baking! LED digital touch screen is clearly visible and you can choose any cooking mode. Meals are done with just one press. The maximum time to be preset is 9 hours and 50 minutes, and the shortest time is 10 minutes. In addition, you can watch the meals through the glass window, don't worry about overcooking anymore.
[Faster & Healthier Cooking] The 1700 watt power Air fryer oven cooks with 360° rapid air circulation around your food, penetrating the interior of the food, cooking evenly, and locking in moisture, your food will be more flavorful and crispier. Thanks to the OIL FREE cooking technology, air-fried food tends to have less hydrogenated oils and harmful trans fats, making you a guilt-free foodie.
[What Is Included] Besides the stainless steel air fryer oven, it also comes with 5 tools to meet various needs to the greatest extent: 1 X Rotisserie Fork, 1 X Cage Tong, 1 X Wire Rack, 1 X Mesh Basket, 1 X Drip Tray, all of which are dishwasher-safe parts that make cleaning a breeze. Don't forget the 18-MONTH warranty of CUSIMAX. If you have any question about the airfryers, please feel free to contact us via email.

16 Cooking Funtions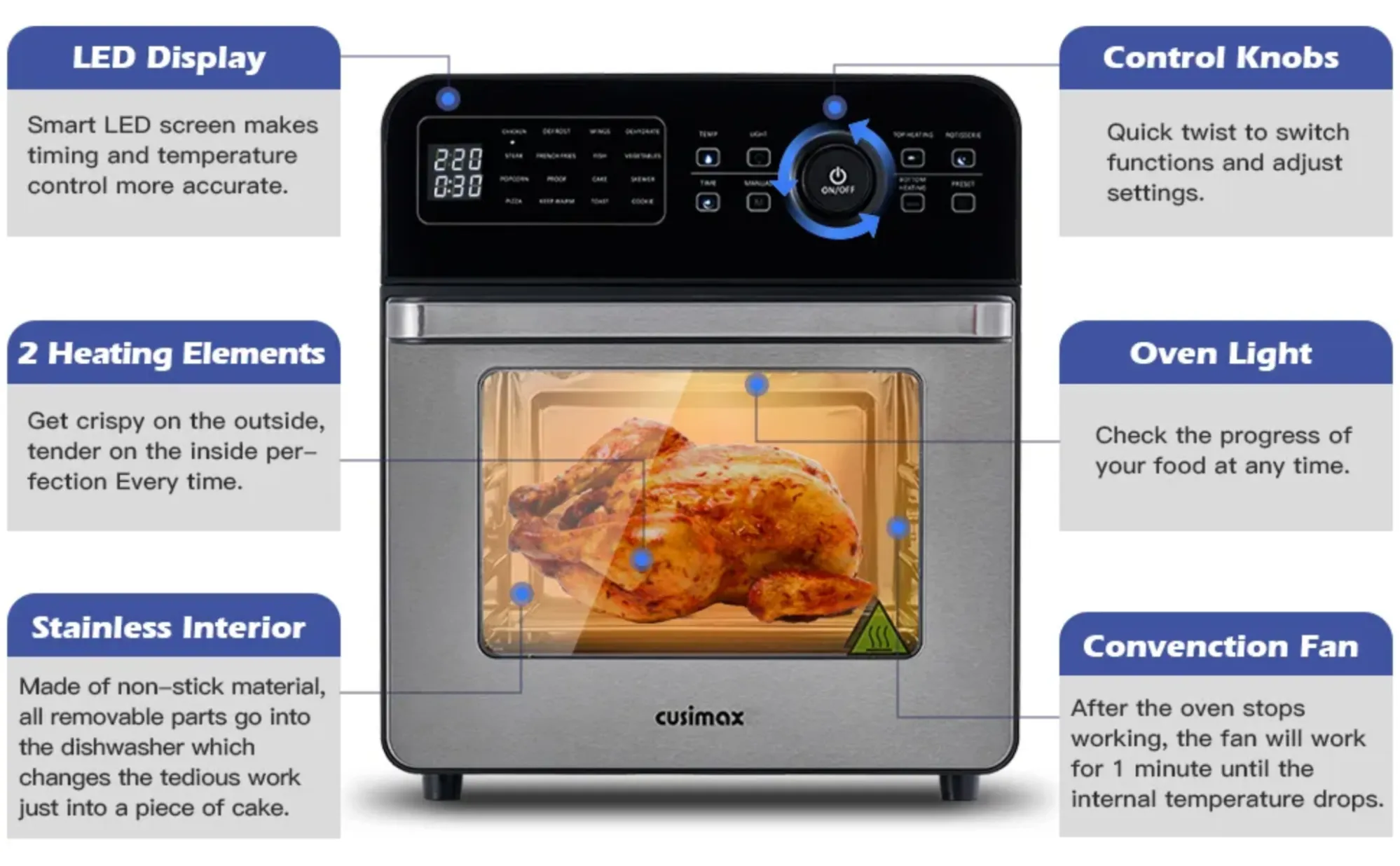 Smart Air Fryer Toaster Oven
Choose from a wide range of features to meet your cooking needs.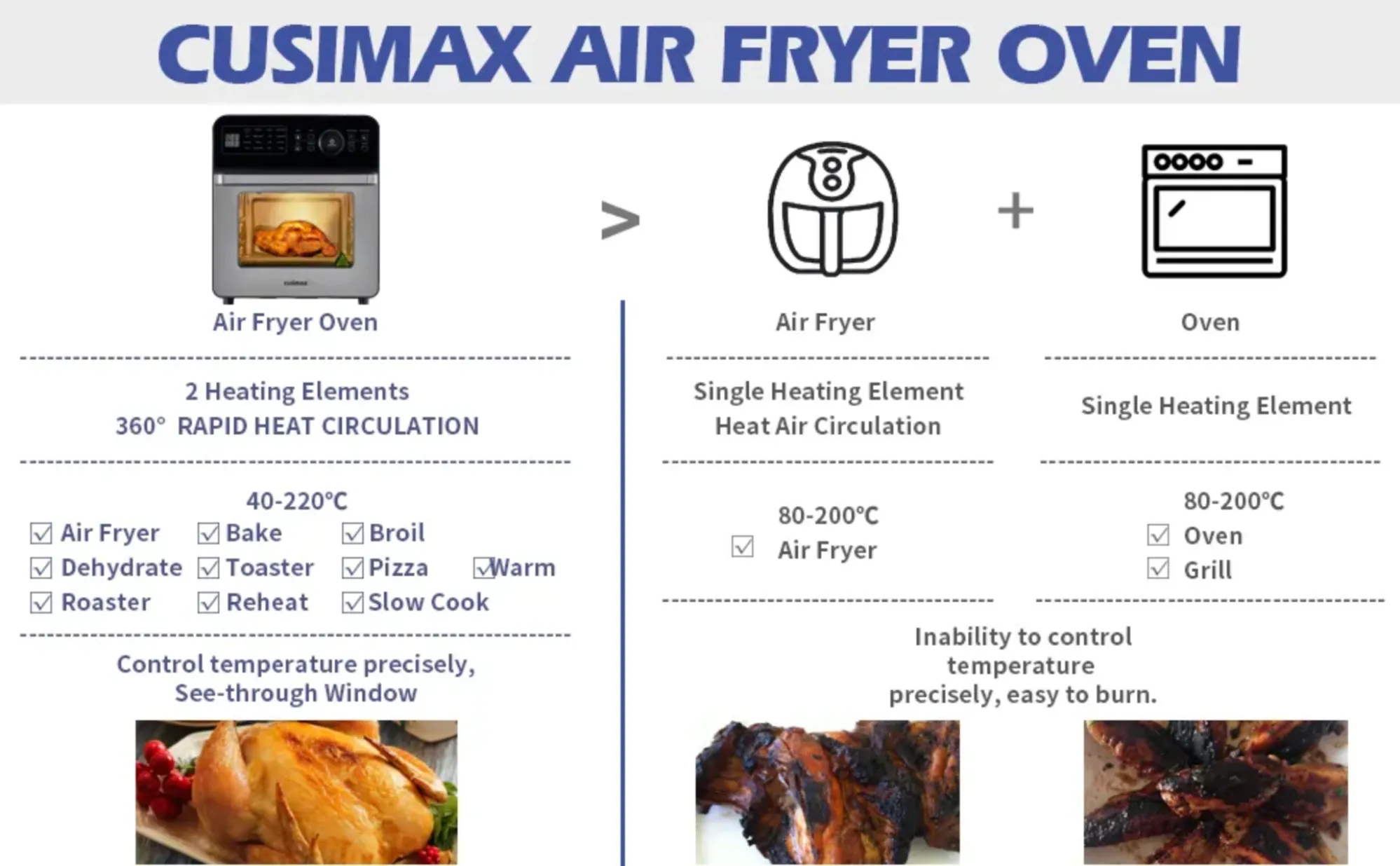 Toaster? Gone!

Deep fryer? Gone!

Air fryer? Gone!

Toaster oven? Gone!
One simple, multi-function, attractive, high-quality appliance to rule them all!
Thanks to the OIL FREE cooking technology, air-fried food tends to have less hydrogenated oils and harmful trans fats, making you a guilt-free foodie.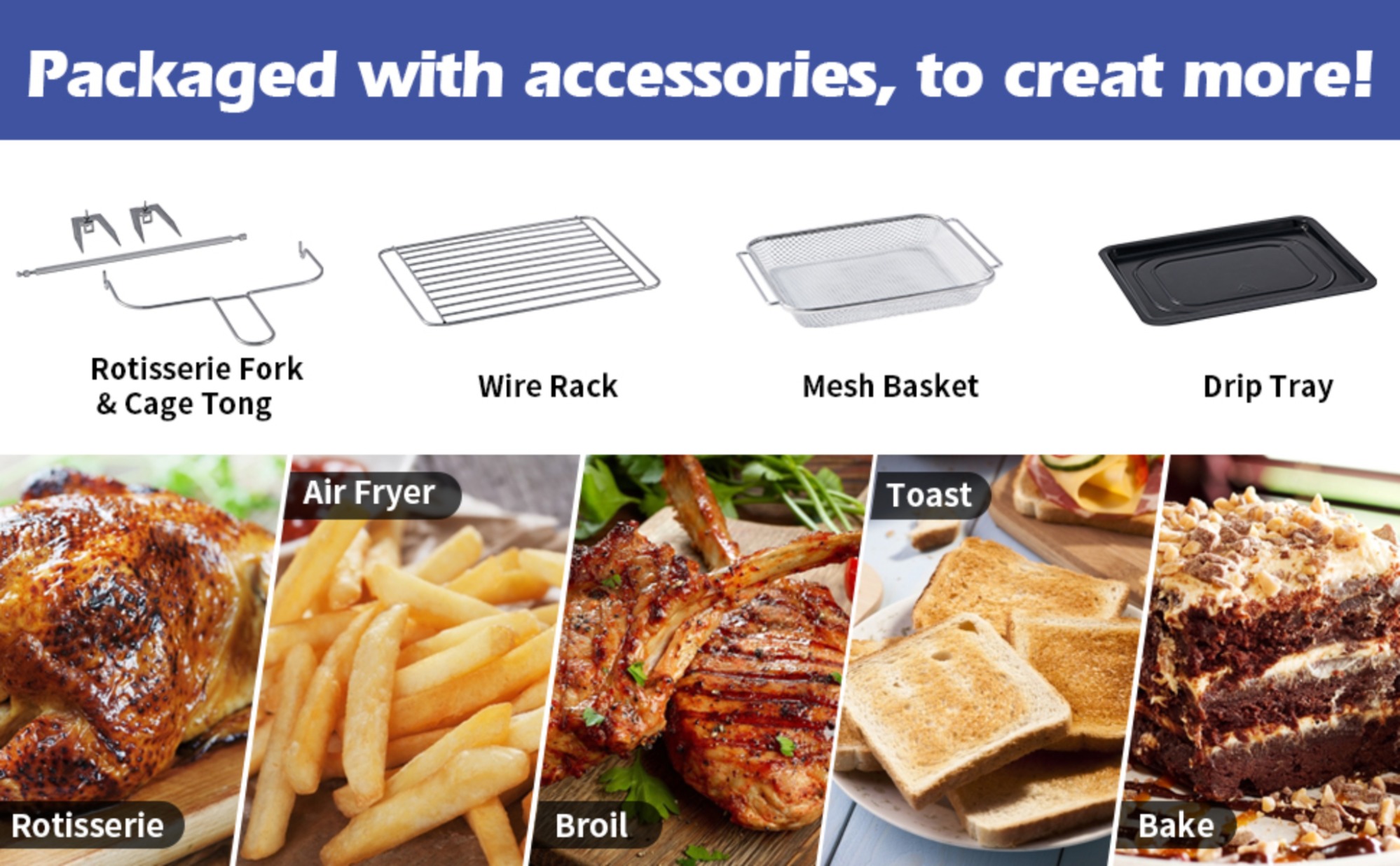 What are the best foods to cook with AIR FRYER OVEN?
We love that air fry oven lets us make healthier, crispy and delicious meals for the entire family right in our oven, so our personal favorite food to fry is chicken wings (have you tried our delicious sticky BBQ wings recipe?). Here are a few of our favorites to help you get started:
Chicken Wings

French Fries

Onion Rings

Sweet Potato Fries

Tater Tots

Veggies and more!
So now, when a fried craving hits, it's easy to air fry without the guilt, at the touch of a button right in your air fryer oven.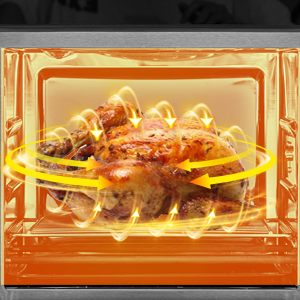 Enjoy Meals & Less Fat
The new 360° hot air circulation technology achieves the same crispy texture and rich flavor of fried food, it can provide you with less oil or no oil crunchy food, healthy and delicious. while reducing fat and calories by up to 85%.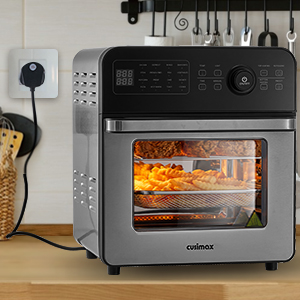 Safety High Power Actifry
1700W high-power countertop air fryer oven has an automatic shut-off function to prevent overcooking and overheating.
Voltage support: 220-240V~50/60Hz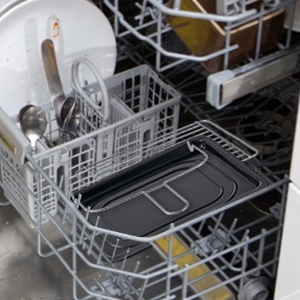 Set You Free From Chores
Non-stick material, all removable parts go into the dishwasher and can be dried by hot air after cleaning, changing the tedious work into a piece of cake.