Cusimax toaster is powered by 120V and 1200W and comes with a 1 meter power cord. There are viewing glass windows on both sides, so you can clearly see the color change of the bread. Fully brushed stainless steel and tempered glass body with no plastic parts inside for peace of mind.

This Cusimax bagel toaster features an automatic lift lever, eliminating the need to manually press the lever. Quartz tube heating is used to ensure that the bread is heated evenly.

Cusimax 2-slice toaster has 7 shades to meet your every need. Equipped with two daily use functions - bagel and defrost function, suitable for various bread types, such as toast, bagels, waffles, etc., easy to make delicious breakfast.

The draw of the Cusimax toaster is that the glass panel effectively prevents crumbs from falling from the sides. To remove crumbs, simply pull out the bottom crumb tray to clean it.

Cusimax provides 18-month commitment and friendly customer service, our customer service will always be online to help you. If you have any problems with the product, please contact us as soon as possible. See the instruction manual for details.
Product Details
Brand
CUSIMAX
Model
THGT-001
Power
120V-60Hz,1200W
Weight
9.26LB
Size

16.93*10.04*7.48 Inch

Material
Stainless Steel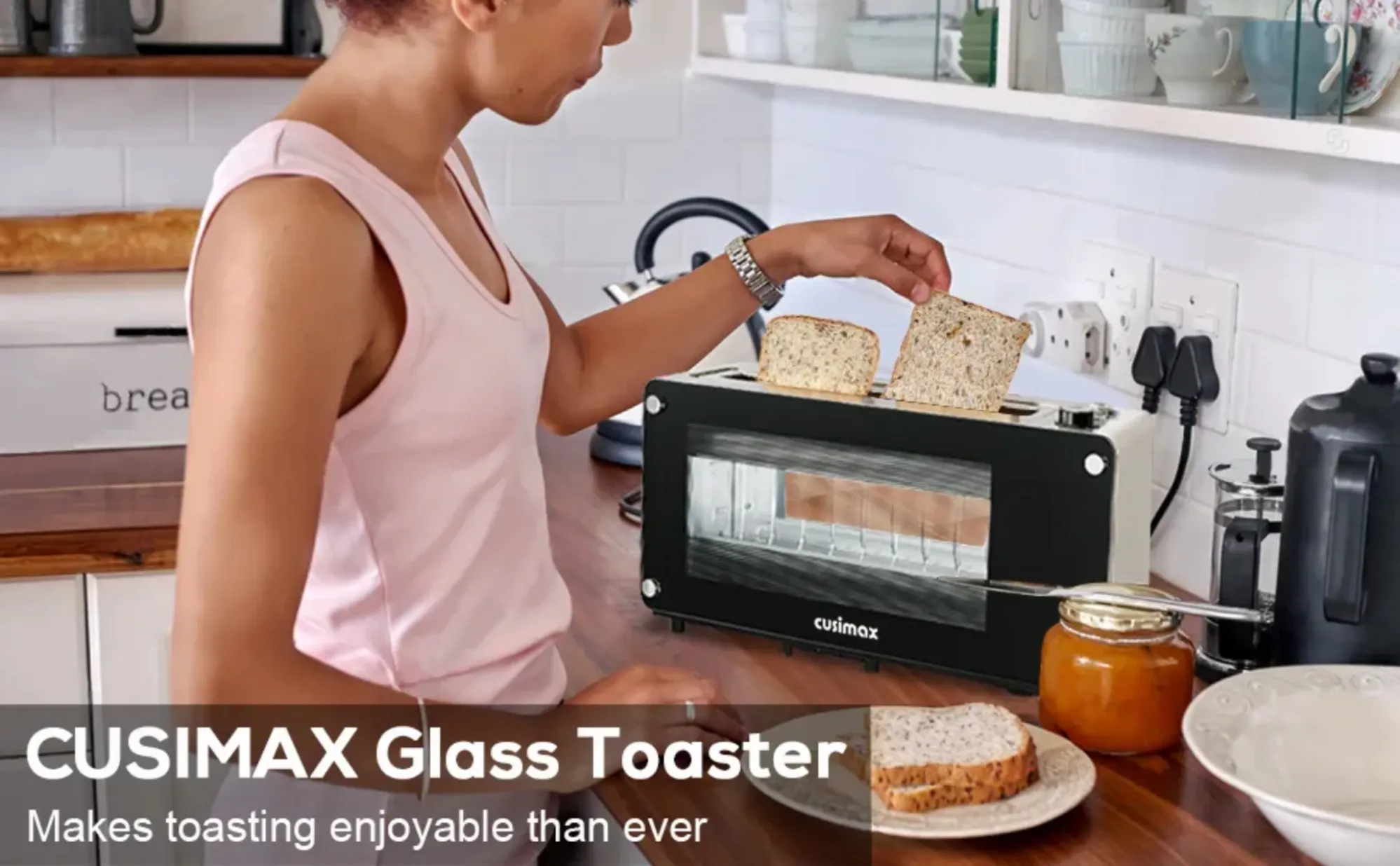 Why CUSIMAX GLASS TOASTER?
Are you tired of being on a wonderful morning, when the bread is ready, the long slot toaster is suddenly broken?
It's time to try something different.
CUSIMAX GLASS LONG SLOT TOASTER, Strong & Durable, suitable for evey daily breakfast toast.
Different with those cheap bread machine which always broke down and have to be replaced by one after another , CUSIMAX GLASS TOASTER provides you a lasting reliable performance.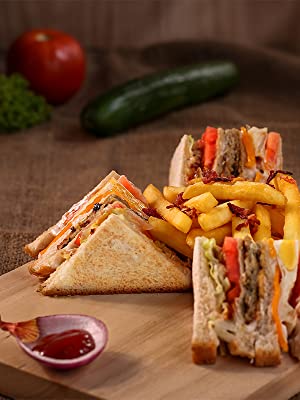 For Daily Toast without Hassle
Enjoy Your Morning
Start your breakfast with Cusimax glass toaster 2 slice, getting enjoyment and efficiency. With the visible tempered glass, you can keep eyes on the browning of bread and cancel toasting at anytime. All stainless steel design, no plastic smell during toasting. Longer and wider slots to accommodate more types of bread, so can make a richer breakfast for your family.
High temperature resistant tempered glass and stainless steel housing

No plastic parts

Glass viewing windows

Automatic Lifting Lever

7 Shade Levels

Slide-out glass panels and removable crumbs tray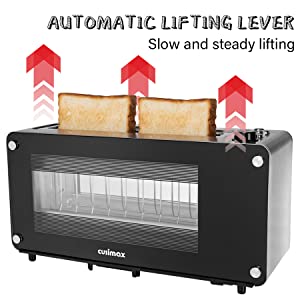 Brand New Design-Automatic Lifting Lever
Just put bread in slot and press "START", the bread drop automatically. No need to manually press the lever like other toasters. When finished, the bread will rise smoothly and you can take it easily.

See Through Glass-Easy to Clean
Viewing Glass panels are better to prevent bread crumbs from falling into the gaps that difficult to clean, crumbs will be collected fully at the bottom removable tray. Simply wiping off the crumbs by pulling out the tray and glass panels and. Always keep your countertop crumb-free.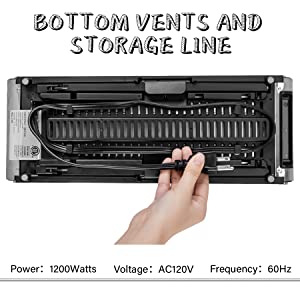 Cord Storage and Heat Emission Hole
After using the stainless steel toaster, organize the cables by the bottom groove to make the countertop tidy. The heat emission hole dissipates heat rapidly to ensure a longer lifespan.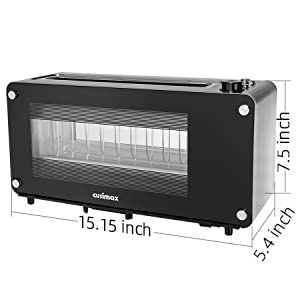 1.Quartz Tube Heating
Heated by the four Quartz tube at the front and back & extended toasting surface for the effectively and evenly toasting
2.Multifunction and Wide Long slot
7 shade settings with cancel function to give you more choices, even DIY your toast.
3.Transparent Visible Toaster
Simple and generous, is a perfect match for your stylish kitchen!