Product parameters: 220V/50Hz 2100W
Item weight:3.2KG
Product Dimensions: 22.65*10.47*4.53(IN)
[High Power & Easy to Operate]-Cusimax 2100W Infrared Burner is equipped with 900W and 1200W heating elements and a separate variable temperature dial, it only takes a few seconds to heat up. Can simultaneously meet different cooking needs. Individual thermostatically controlled heating settings provide prefect temperature for your cooking from boil to simmer as well as can be used as food warmer or slow cooker.
[Works with all types of cookwares]-This electric hob is compatible with all types of cookwares. Both 2 rings are made of double crystallite glass plates. Can be used with all types of cookwares with diameter of 15-18CM. Working with glass and aluminum cookware can effectively reduce heat loss.
[Safe & Easy to Clean]-CUSIMAX Double Hob can be used as an alternative to a gas stove and is safer to use as it has no Open flame. Stainless steel body built to withstand frequent use. The heated surface of crystal glass is smooth and easy to clean. After use, wait for cooling, just wipe with a clean cloth. With anti-skid feet, it can ensure the stability of the hot plate and prevent the electric stove from moving during the cooking process.
[Portable & Compact]-The hotplate is equipped with two insulated handles that stay cool to touch and easy to move around to cook anywhere. It can be an extra cooking tool in your kitchen. Thanks to the compact design, you can use it in your office, dormitory or RV, or even camping where electricity is available, thus increasing cooking flexibility. Easy to store even after use.
[Customer Service]-Cusimax Offer a Outstanding 30-Day Hassle-Free Return Policy. We will provide the best service and reply within 24 hours. You are entitled to a Full refund within the first 30 days! For details, please refer to the policy.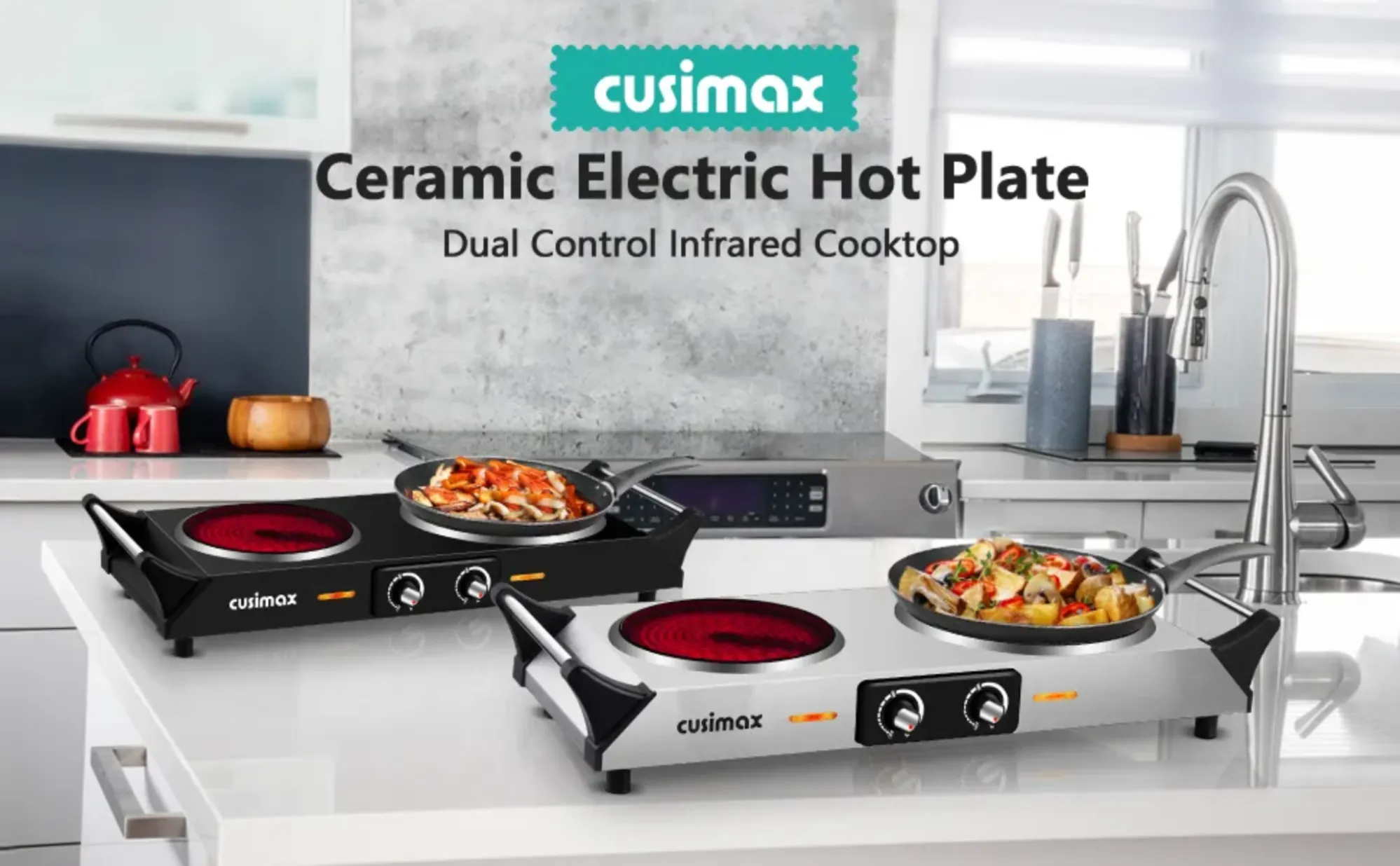 CUSIMAX 2300W Electric Hob
The compact design is ideal for people who have less space or need extra burners.
CUSIMAX Infrared Cooktop is allowed to cook anywhere with 220-240V electricity outlet. Equipped with two insulated handles that stay cool to touch and easy to move around to cook anywhere.
With 1200W and 900W heating elements and two separate variable temperature dials. Can cook different dishes at the same time to meet different needs, thereby saving time.
Compatible with all types of cookware with a diameter of 18cm and 15cm, suitable for frying, boiling, simmering and keeping food warm. Allows you to eat warm food in the cold winter.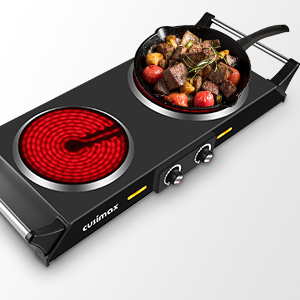 Portable Double Hob
Stainless Steel Housing

Works With All Types of Cookware

Adjustable Thermostatic Control

Overheating protection

No Noise, No Electromagnetic Radiation

High Quality Double Crystallite Glass Plates

Easy to clean Durable Ceramic Cooktop

Compact Design Allows Cooking in Smaller Spaces

Skid-resistant Rubber Feets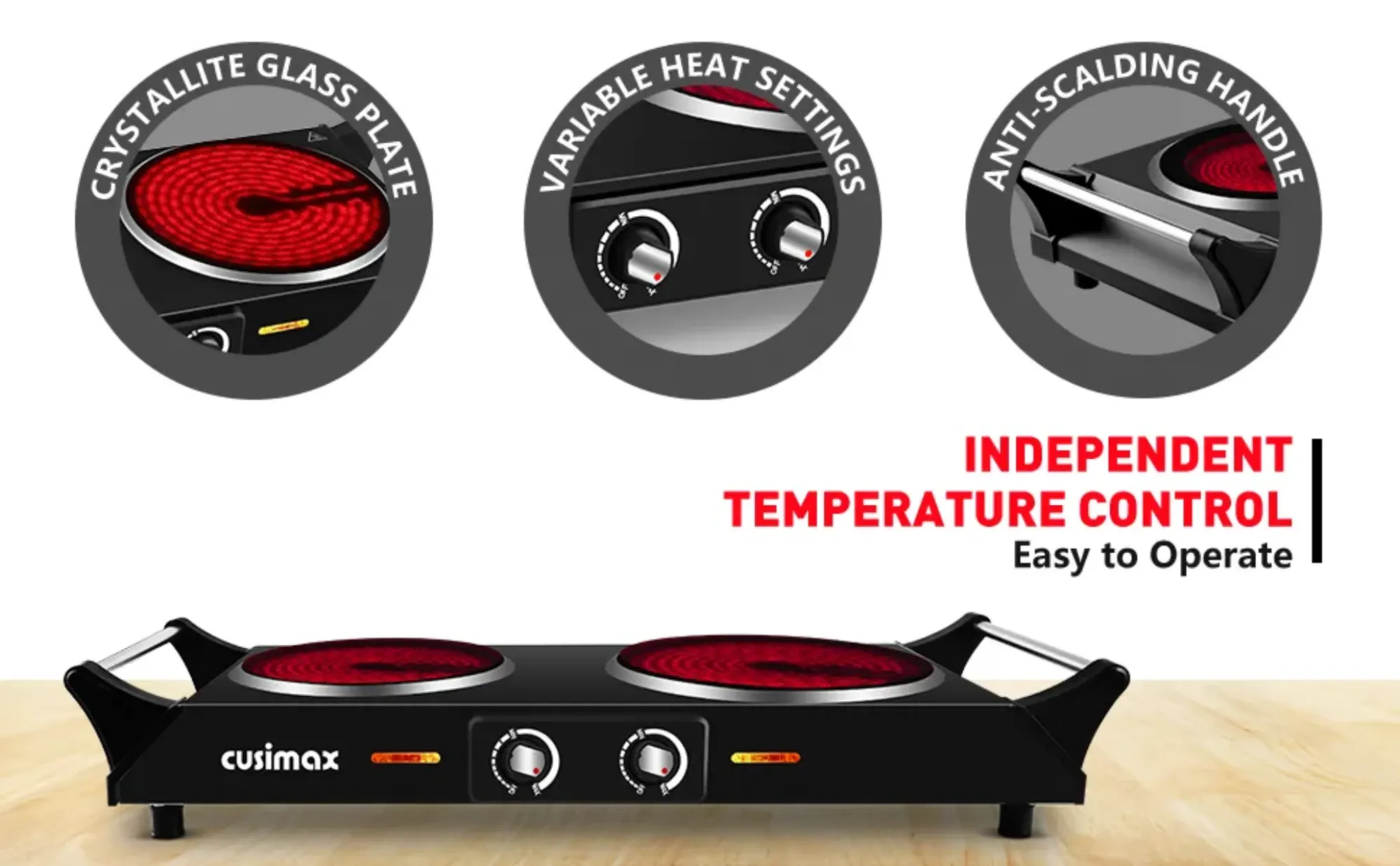 This portable double hob can be used as an additional cooking assistant. Take it with you when renovating kitchens, student residences, gardens, or traveling in your RV. Compared to traditional gas, it has no open flames, making it safer and easier to clean. The perfect addition to your kitchen.