Product parameters: 230V/50Hz 2100W
Item weight:3.2KG
Product Dimensions: 10.63*4.13*12.01(IN)
[2 plaques chauffantes électriques] - Équipées de 2 plaques chauffantes et de deux manettes de commande, qu'elles soient utilisées indépendamment ou les deux sans aucun problème. Avec une puissance de chauffage de 1200W + 900W, votre plaque chauffante atteindra la chaleur dont vous avez besoin en quelques minutes. Répondez facilement à vos différents besoins, de la vapeur lente à l'eau bouillante, l'ébullition est si pratique.
[Conception pratique] - La surface de la cuisinière à 2 feux est en vitrocéramique d'un diamètre de 18 cm et 15 cm, adaptée à différents types d'ustensiles de cuisine. Avec sa conception compacte et légère, la plaque de cuisson portable est facile à transporter et convient à une utilisation en intérieur et en extérieur, comme les petites cuisines, le camping ou les terrasses.
[Facile à nettoyer] - Le corps des doubles plaques chauffantes infrarouges CUSIMAX est en acier inoxydable de haute qualité et la surface est en vitrocéramique, lisse, élégante et durable, ce qui la rend facile à nettoyer. Après la cuisson, attendez que les plaques refroidissent puis essuyez-les avec un chiffon humide, la plaque de cuisson sera à nouveau propre en un rien de temps.
[Cuisson sûre] - Grâce au chauffage infrarouge, la perte de chaleur peut être efficacement réduite, il n'y a pas de flamme nue et pas de rayonnement, ce qui est sûr et économe en énergie. Après l'allumage, le voyant s'allume et s'éteint automatiquement pour éviter la surchauffe et maintenir la température constante afin que vous puissiez utiliser l'appareil sans aucun problème.
[Assurance qualité] - Vos repas sont simplifiés avec la plaque de cuisson infrarouge CUSIMAX. Veuillez nous contacter si vous avez des problèmes. Nous fournissons un support technique et la bonne façon de vous assurer une bonne expérience lors de son utilisation.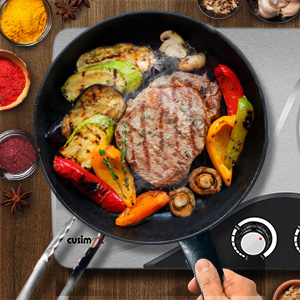 Partner for any cook's collection
Enjoy every delicious moment with CUSIMAX double hot plate! This hot plate will bring more convenience to your daily life. By virtue of its small and portable size, you can take it anywhere you want. It's suitable for all occasions. Whether you're cooking for family dining or having a party with friends, this electric hob can help you cook a fantastic meal within a short time.
A good choice for your daily life
No noise at work

Compatible with all kinds of cookware

Infrared heating without radiation, available for pregnant women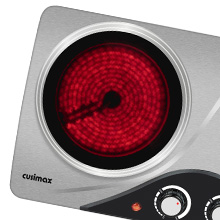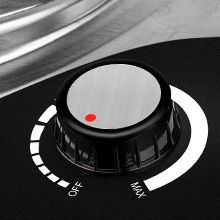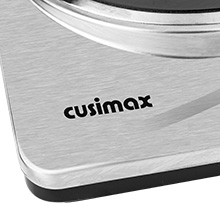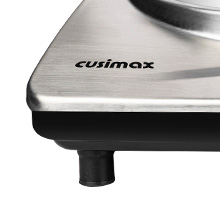 1.Infrared Heating Elements - Efficient----This hot plate is equipped with 1200W and 900W infrared heating elements, which makes heat food more efficient. Let you enjoy delicacies in a short time.
2.Dual Temperature Control Knobs - Convenient----Electric hob features 2 individual knobs, it can meet your different cooking needs at the same time. You can keep food warm, boil water, fried steak, simmer and more.
3.Stainless Steel Body - Durable----With its stainless steel housing, it can be easily cleaned by wiping with a damp cloth, durable enough to withstand frequent use.
4.Non-slip Rubber Feet - Stable----The bottom contains non-slip feet to prevent the hot plate from "walking" during operation. Ensure its stability.

USAGE AND NOTICE:
As the hot plate will heat up during use, please place it on a dry, flat and heat-resistant surface.

When first use, a slight smell or light smoking will discharge from inside of the hot plate. This is due to the exhaustion of the protective coating on the heating elements. After 1-2 uses, the smell and smoke will automatically dissipate (usually within 30 minutes). This is normal and does not need to worry about.

The electric hob will transfer heat to the cookware through its own heating, so do not directly touch the hob surface during use (Note: Heat will also be transferred to the knob, causing the knob to become hot).

Please switch off the hot plate after use, it may take 20 minutes to cool down. This is because some residual heat will remain on the hotplate to better keep the food warm. (Note: Do not use abrasives, harsh cleaning solvents to clean the unit.)

To achieve better cooking performance: 1. The diameter of the cookware is no larger than 15cm or 18cm; 2. Use a lid when cooking.