Product parameters: 220V/50Hz 2100W
Item weight:3.2KG
Product Dimensions: 10.63*4.13*12.01(IN)
Electric hotplates set of 2 – equipped with 2 hobs and two control knobs, regardless of each other or both easily used. With 1200 W + 900 W heating output, your hob reaches the heat you need within minutes. Easily meet your different needs, from slow steaming to boiling water, cooking is so convenient.
Comfortable design - The surface of 2 hobs is made of glass ceramic with a diameter of 18 cm and 15 cm, which are suitable for different types of cookware. Thanks to its compact and lightweight design, the portable hotplate is easy to carry and is suitable for both indoor and outdoor use such as small kitchens, camping or patios.
Easy to clean - The body of the CUSIMAX infrared double hob is made of high quality stainless steel and the surface is made of glass ceramic, which is smooth, elegant and durable and makes cleaning easier. After cooking, wait until the plates have cooled down, then wipe them with a damp cloth, the cooking plate will be clean again in no time.
Safe cooking - Thanks to the infrared heater, heat loss can be effectively reduced, there is no open flame and no radiation, which is safe and energy-saving. After switching on, the indicator light automatically turns on and off to avoid overheating and keep the temperature constant, so you can use the device without any problems.
Quality assurance - With the CUSIMAX infrared cooking plate, your meals are made easy. Please contact us if you have any problems. We provide technical support and the right way to ensure you have a good experience when using.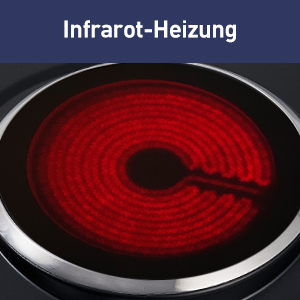 Heizt innerhalb von Sekunden auf, aber keine offene Flamme, spart Zeit und Energie.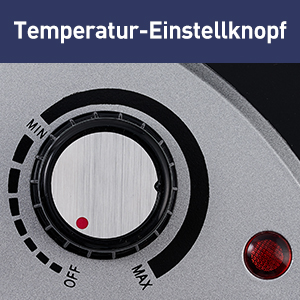 Mit 2 separaten Reglern und Lichtern können Sie die Temperatur ganz einfach zwischen Null und MAX einstellen. Stecken Sie einfach das Kabel in die Steckdose und drehen Sie den Regler.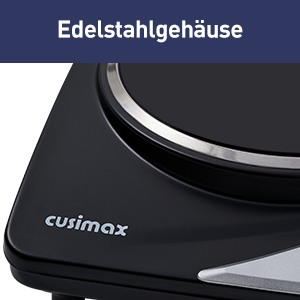 Das Gehäuse aus rostfreiem Stahl ist glatt und langlebig, leicht zu reinigen und benötigt keine aufwendige Wartung.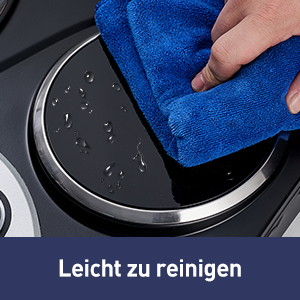 Glaskeramik-Kochfeld für eine einfache Reinigung, einfach mit warmem Wasser und einem feuchten Tuch nach dem Abkühlen abwischen und das ist genug.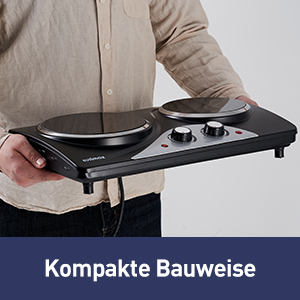 Dank ihrer kompakten Bauweise lassen sich die Kochplatten schnell verstauen und bieten so mehr Arbeitsfläche.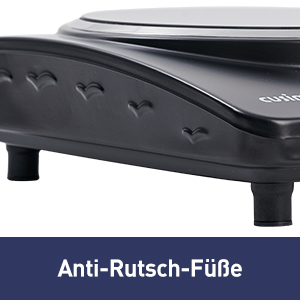 Rutschfeste Gummifüße an der Unterseite sorgen für Stabilität und verhindern ein Verrutschen auf Tischplatten.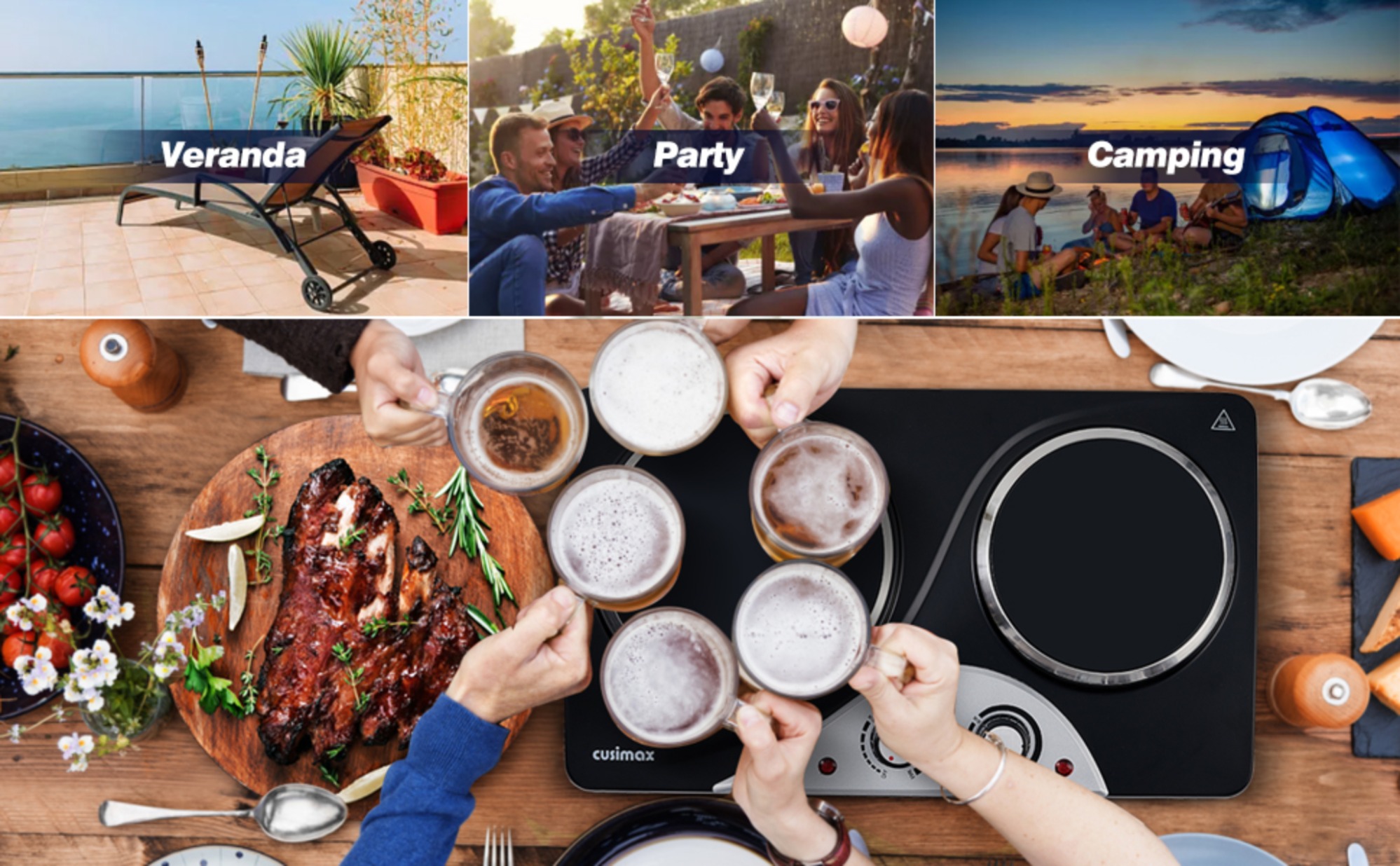 FREUNDLICHE ERINNERUNG
Wenn Sie die Heizplatte zum ersten Mal benutzen, werden Sie vielleicht einen leichten Geruch oder eine leichte Rauchentwicklung im Inneren des Brenners bemerken, das ist normal. Dies ist aufgrund der Schutzstoffe auf den Heizelementen, für 15-20 Minuten wird die Beschichtung Rückstand zu beseitigen, besser im Freien getan.
Der Herd wird im Rahmen des Herstellungsprozesses mit einem Schutzaufkleber versehen. Dieser Aufkleber muss entfernt werden, bevor Sie das Gerät zum ersten Mal benutzen.
Die CUSIMAX-Kochplatte ist mit einem Überhitzungsschutz und einem Thermostat ausgestattet. Sie schaltet sich automatisch aus, wenn die Temperatur zu hoch ist. Das ist ein normales Phänomen. Bitte befolgen Sie bei der Verwendung die Anweisungen.
Bitte berühren Sie den Körper der Kochplatte während des Gebrauchs nicht, da das Gehäuse aus rostfreiem Stahl besteht, was zu einer Wärmeleitung führt.
Es kann etwa 20 Minuten dauern, bis die Kochplatte vollständig abgekühlt ist, wodurch die Speisen nach dem Gebrauch warm gehalten werden.
Verwenden Sie keine scharfen Scheuermittel, Stahlwolle oder ätzende Reinigungsmittel für die Kochplatte, da diese die Oberfläche zerkratzen oder das Gerät beschädigen können.