Product parameters: 220V/50Hz 2100W
Item weight:3.2KG
Product Dimensions: 10.63*4.13*12.01(IN)
[Work With All Types Of Cookware]-Cusimax Electric Hobs is compatible with all types of cookware. Can be used with all types of cookware with diameter of 18CM(left burner) and 15CM(right burner). Working with glass and aluminum cookware can effectively reduce heat loss. Suitable for boiling or slow simmering, and can also be used as food heating or slow cooker.
[Efficient Cooking & Easy To Operate]-2100W Infrared Burner is equipped with 1200W and 900W heating elements and independent variable temperature dials, provides the perfect temperature for your cooking, from boiling to simmering, while meeting your different cooking needs. Also, it can be used as a food warmer or slow cooker. No stove is required.
[Portable & Compact]-Cusimax Portable Electric Hob is suitable for various places. Small and portable design Kitchen appliances take up little space, especially ideal for small area, dorm rooms, hotel rooms, workplace or caravan. It can be an extra cooking tool in your kitchen. Provide you with a variety of cooking conveniences.
[Safe & Easy To Clean]-The stainless steel body built to withstand frequent use. No electromagnetic radiation and completely harmless. Overheat protection and non-slip feet ensure safety use. Fitted with 1 meter power cord for fuss-free and keep your kitchen tidy. The heated surface of crystal glass is smooth and easy to clean. After use, wait for cooling, just wipe with a clean cloth.
[Warranty]-30-Day money back guarantee and free lifetime customer service, if there is any problem with the product, please feel free to contact us. Customer Satisfaction is our goal. CE/ROHS/GS/UKCA certificated for quality assurance.
Partner for any cook's collection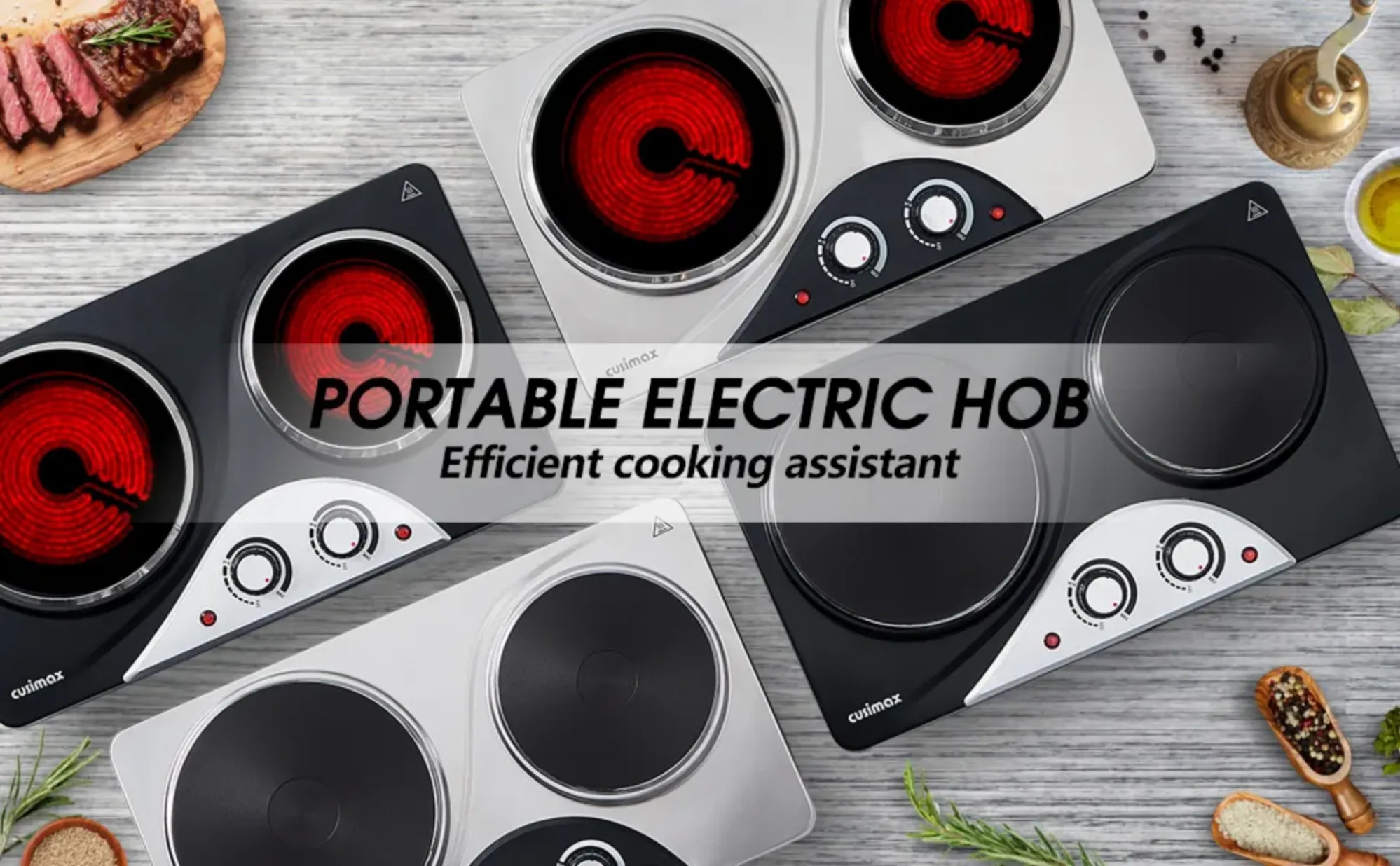 CUSIMAX Electric Hobs can cook anywhere from 220-240V power outlet.
Equipped with 1200W and 900W heating elements with individual variable temperature dials is compatible with all types of cookware respectively in diameter of 18 cm and 15 cm, powerful to fry, boil, simmer as well as keep food warm for serving.
Double burner can cook different dish simultaneously. It's extremely suitable for those less of space or need extra burner.
Easy Operation
The Infrared Cooktop features individual thermostatically controlled variable heat settings.

It only takes a few seconds to heat up quickly.

Just turn the dial to the desired position as per your cooking needs and the temperature will stay stable for fast cooking.

Also individual neon power indicators act as a warning indicating the unit is under working.
Safe and Easy to Clean
Our Hot Plate is equipped with thermal fuse for overheating protection.

Come with non-slip rubber feet to ensure that the hot plate will not move casually during cooking, improving safety.

The stainless steel body is durable and can be easily cleaned with a damp cloth after use (after it COOLDE DOWN), and can withstand frequent use.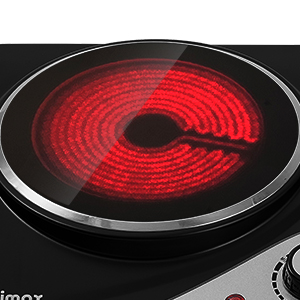 Infrared Heating Elements
This hot plate is equipped with 1200W and 900W infrared heating elements, which makes heat food more efficient.
Let you enjoy delicacies in a short time.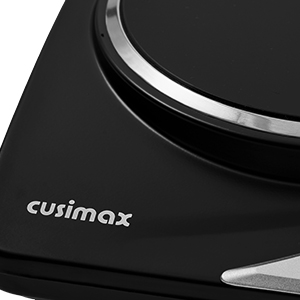 Stainless Steel Surface
With its stainless steel housing, it can be easily cleaned by wiping with a damp cloth, durable enough to withstand frequent use.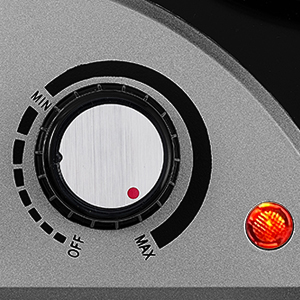 Precise Temperature Control
Variable temperature control settings and indicator lights, easy to operate.

By virtue of its small and portable size, you can take it anywhere you want. It's suitable for all occasions.
No noise at work

Compatible with all kinds of cookware

Infrared heating without radiation, available for pregnant women


USAGE NOTICE:
When you first use the hot plate, the appliance may give off vapours for up to 15-20 minutes. This is due to the protective substances on the heating elements. No need to worry, the vapor will dissipate after multiple uses.

CUSIMAX hot plate has a overheating protection and thermostat, it will automatically power off when the temperature is too high. It's a normal phenomenon. Follow the instructions when using.

It takes about 20 minutes for the burner to cool completely, which keeps the food warm after use.

Please don't touch the body of the burner during use, beacuse the surface of the burner is made of stainless steel, which will cause heat conduction.

Never use harsh abrasives, steel wool pads or caustic cleansers on any part of the hot plate as they may scratch the surface or damage the unit.