Product parameters: 120V/60Hz 1800W
Item weight:7.89LB
Product Dimensions: 20.87"D x 14.57"W x 4.13"H
[Suitable For All Types Of Cookware] Suitable for all cookware with diameter sizes of 7.4+6.1 inches, heats the cookware efficiently and reduces heat loss.
[Safe and Simple Operation] Just turn the knob to turn on/off the burner, with overheat protection and high safety.
[Convenient] 1800W power, fast heating speed, can be used as a spare cooking tool for daily or busy.
[No radiation] Heating work, no electromagnetic radiation, harmless to human body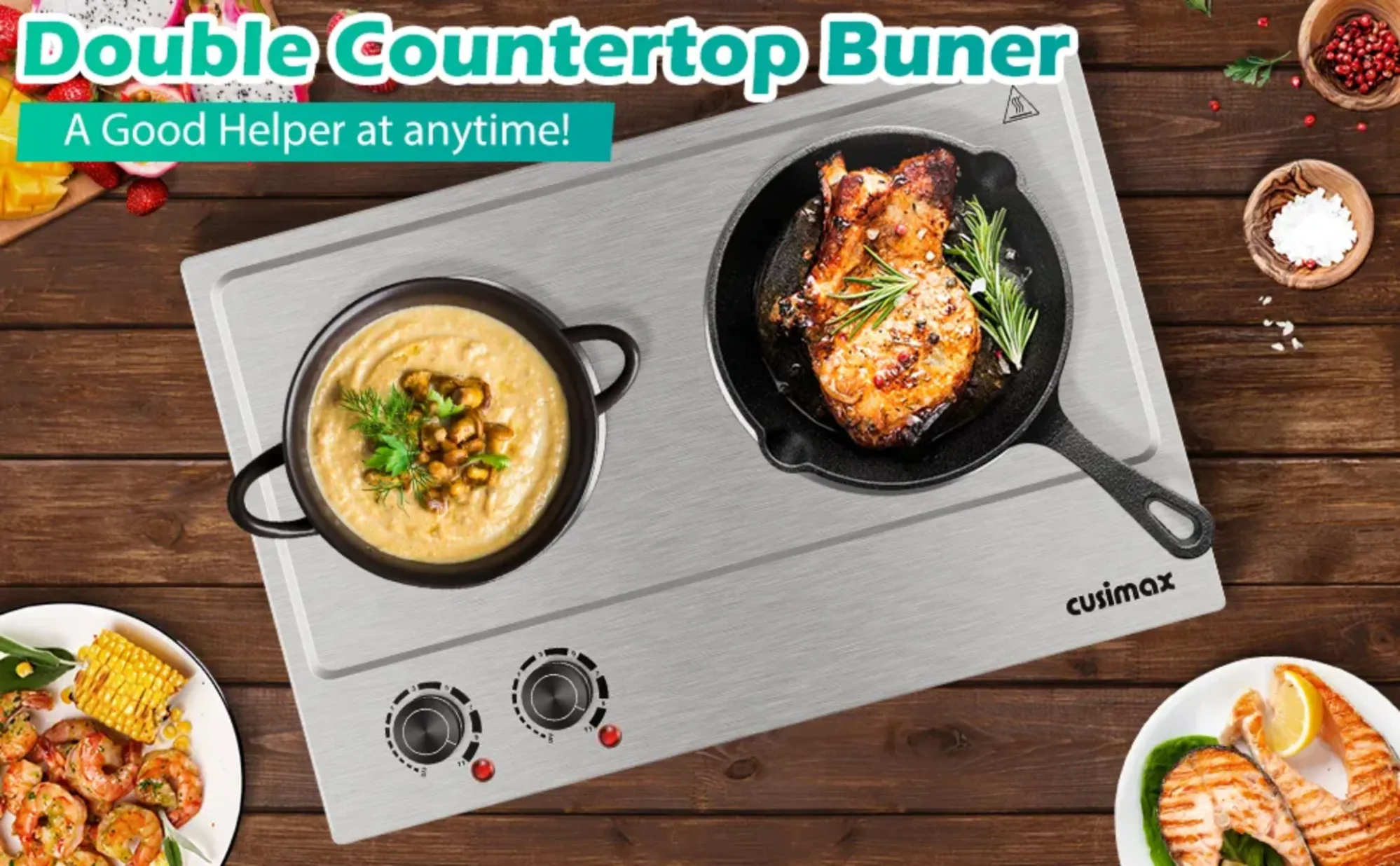 CUSIMAX Double Hot Plate is allowed to cook anywhere with 120V electricity outlet.
Equipped with 900W and 900W heating elements with full-range thermostatic control knob is compatible with all types of cookware in diameter of 7.4" and 6.1", powerful to fry, boil, simmer as well as keep food warm for serving.
Double plates can cook different dish simultaneously. It's extremely suitable for those less of space or need extra burner.
Safety Design
Our Hot Plate is equipped with thermal fuse for overheating protection.
When it reaches the setting temperature, it will automatically cut off for few seconds and back to the original setting.

It is used to care about over heat and avoid potential hazard. Also 1 meter power cord is another highlight to avoid dangerous.

Non-slip rubber feet ensure that the hot pate stays firmly in place for safe use.
ATTN: This unit is compatible with all types of cookware. Use whatever you want such as metal, glass, ceramic, woks, tea kettles, aluminum, stainless steel, etc.

Easy operation
The hot plate is equipped with 11 thermostatically controlled heat settings for precise cooking. Simply turn the control knob to the desired position, it will maintain the steady temperature for your cuisine until the setting is changed. Also individual indicator lights act as a warning indicating the unit is under working.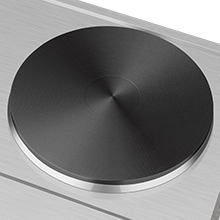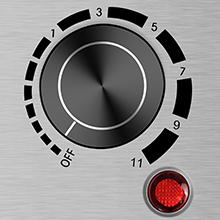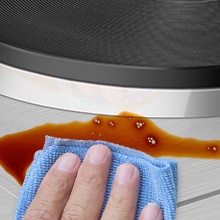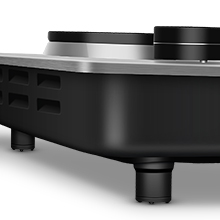 1.Durable Cast-iron Cooktop----High quality Cast iron heating plates and Durable stainless steel bodypans or pots should be in diameter of 7.4" and 6.1".Work with all types of cookware.
2.Precise Temperature Control----Aadjustable thermostat control and indicator light.
3.Stainless Steel Body----Durable stainless steel body, easy to clean.Simply wipe with a damp cloth when cool.
4.Non-Slip Feet for safe use----Bottom is equipped with anti-skid feet, ensures the stability of hot plate, preventing the electric stove from moving during cooking.

USE MATTERS:
When used for the first time, a small amount of smoke may appear in the product. This is due to the depletion of the protective coating on the heating element. After 1-2 normal uses, the smoke will automatically dissipate (usually within 30 minutes). This is normal and no need to worry.

The burner transfers heat to the pot by heating itself, so do not directly touch the stove surface during use (Note: Heat will also be transferred to the knob, causing the knob to become hot).

After the burner stops working, it takes about 20 minutes to cool down, which can better keep the food warm.

To make the burner work quickly: 1. Preheat before use; 2. Use a pan to cook as much as possible; 3. Use a lid when cooking.

Since the hot plate emits heat when in use, please place it on a

high temperature resistant surface!