Product parameters: 120V/60Hz 1800W
Item weight:7.89LB
Product Dimensions: 13"D x 19.7"W x 2.6"H
[All Types of Cookware] Cookware size range is 7.1''+7.1'', including glass and aluminum, which can effectively heat the cookware while minimizing heat loss.
[Convenience] No matter where you are, as long as you plug in the power supply, the electric stove can be used, which can be used in RV, office or back garden, etc.
[Adjustable temperature control] The electric furnace has overheat protection function and high safety.
[Easy to Clean and Durable] The stainless steel body can be used frequently and easy to clean, and the ceramic cooktop is durable.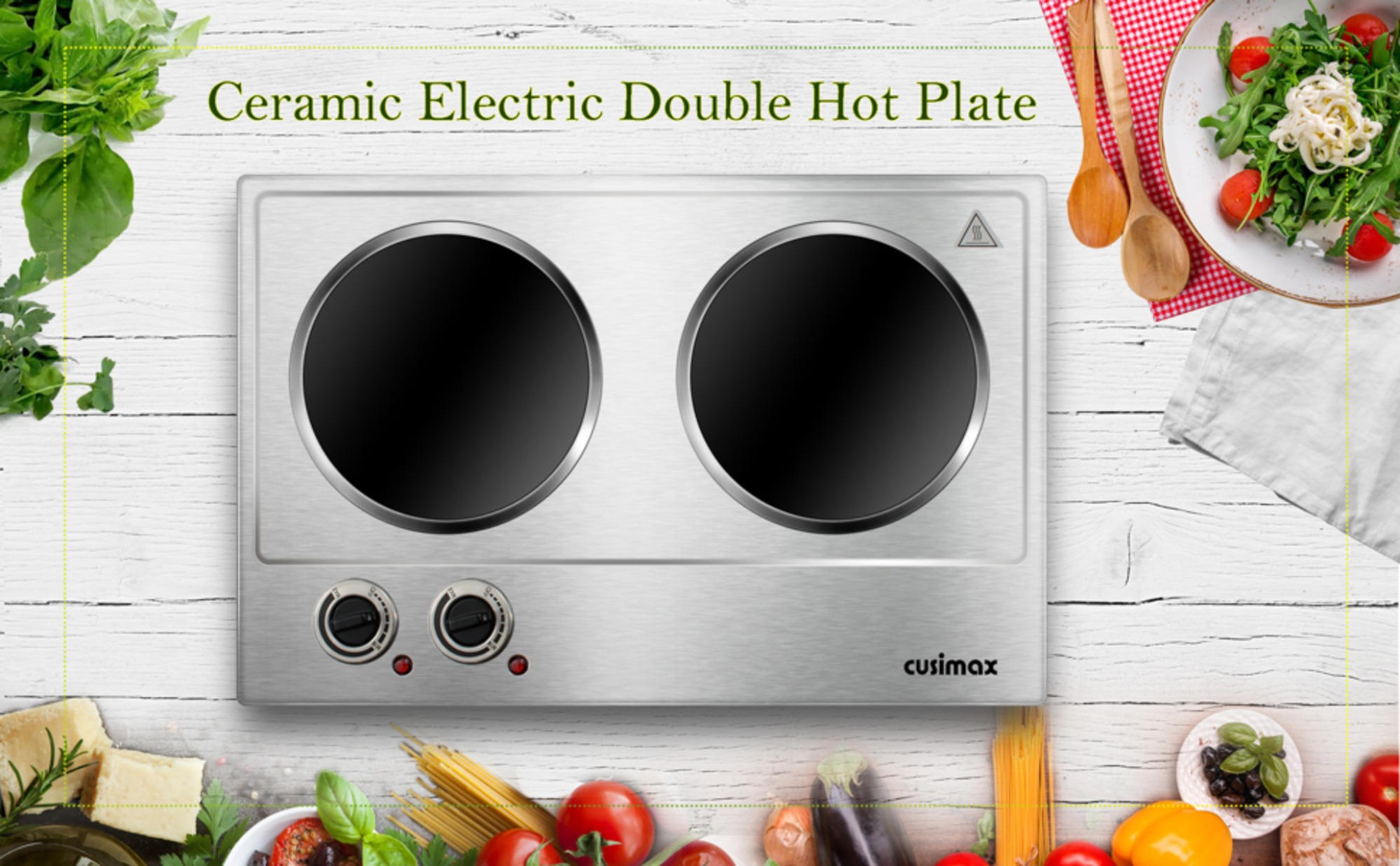 - 120V, 900 watt and 900 watt of power
- Adjustable thermostatic control
- Stainless steel housing, double crystallite glass plate
- Min to max heating position, power and temperature control knob
- Skid-resistant rubber feet, indicator light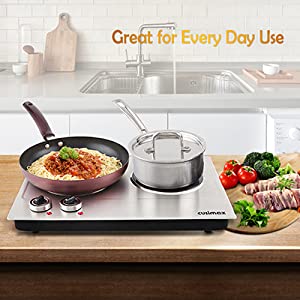 Convenient and Handy Double Burner
It is handy and surely provides extra countertop cooking options.
The high quality double crystallite glass plate and stainless steel housing fit the busy modern kitchen nowadays.
Take it when you are far away from home. Cooking with this portable electric infrared cooktop, prepare a meal for yourself to healing homesick. Even though in office, it is powerful enough to finish a meal quickly and compact enough to entertain a group.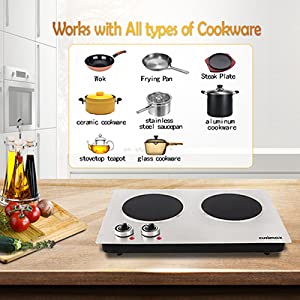 Works with All Types of Cookware
Can be used for pots and pans ranging to 7.1"+7.1"
Working with glass and aluminum and heats cookware efficiently with minimal heat loss , easily to cook food including warm sauces,scrambled eggs, grilled cheese, boil water,make soup,cook pasta and vegetables and others.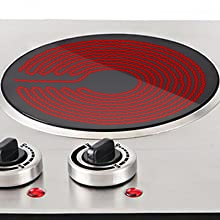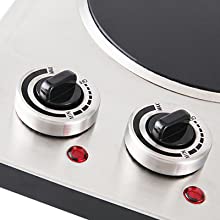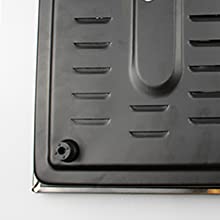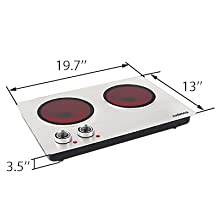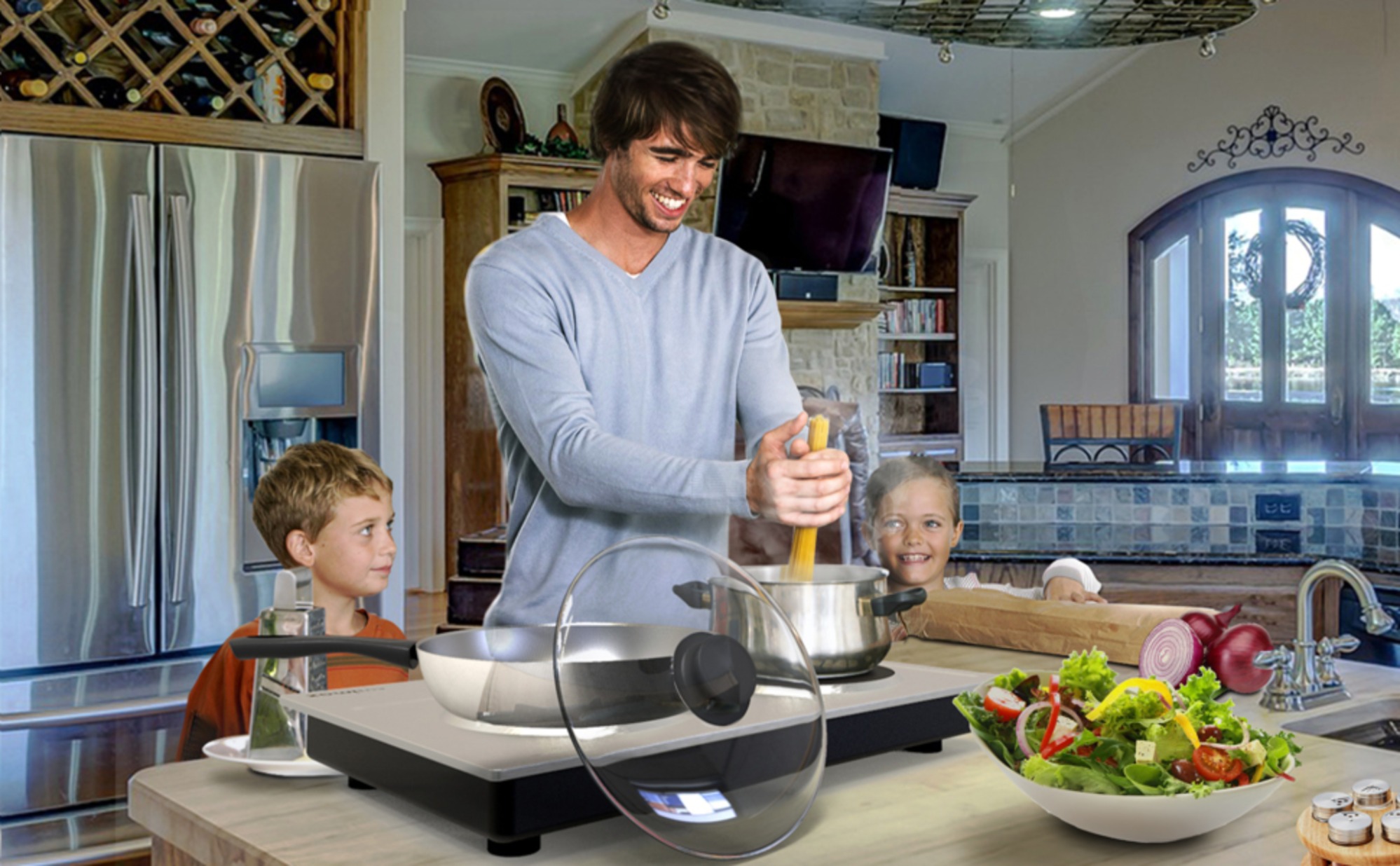 Safety use and care with Cusimax
Ensure safety please do not use unstable pan and submerge in water. When turn off, it still needs more than 15 minutes to cool down. You can put the hand over the surface about from 1'' to 2'' to feel whether there is any residual heat.
Reasonable care will ensure many years of service from your unit. Easy cleaning with a damp, soft cloth or sponge , but never use harsh abrasive or steel wool pads on any part of the burner as they may scratch the surface or damage the unit.
ATTN: This unit is compatible with all types of cookware. Use whatever you want such as metal, glass, ceramic, woks, tea kettles, aluminum, stainless steel, etc. You can ignore the "magnet bottom" on the package because here is the right instruction for you!
USE MATTERS:
When used for the first time, a small amount of smoke may appear in the product. This is due to the depletion of the protective coating on the heating element. After 1-2 normal uses, the smoke will automatically dissipate (usually within 30 minutes). This is normal and no need to worry.

The burner transfers heat to the pot by heating itself, so do not directly touch the stove surface during use (Note: Heat will also be transferred to the knob, causing the knob to become hot).

After the burner stops working, it takes about 20 minutes to cool down, which can better keep the food warm.

To make the burner work quickly: 1. Preheat before use; 2. Use a pan to cook as much as possible; 3. Use a lid when cooking.

Since the hot plate emits heat when in use, please place it on a

high temperature resistant surface!