Product parameters: 120V/60Hz 1800W
Item weight:8.8LB
Product Dimensions: 4.3"D x 22.5"W x 10.5"H
[Suitabl For All Type Of Cookware] Suitable for all cookware with diameter sizes of 7.4+6.1 inches, heats the cookware efficiently and reduces heat loss.
[Multi-purpose] Can be used for hot sauce, fried steak, fried chicken, etc., and can be cooked in a small space.
[Easy for Independent Cooking] You can cook two dishes at the same time without a stove. Equipped with non-slip feet, the electric stove is not easy to move.
[Safe And Easy To Clean] With temperature overheating protection, the stainless steel body is easy to clean. It's still pretty even with regular us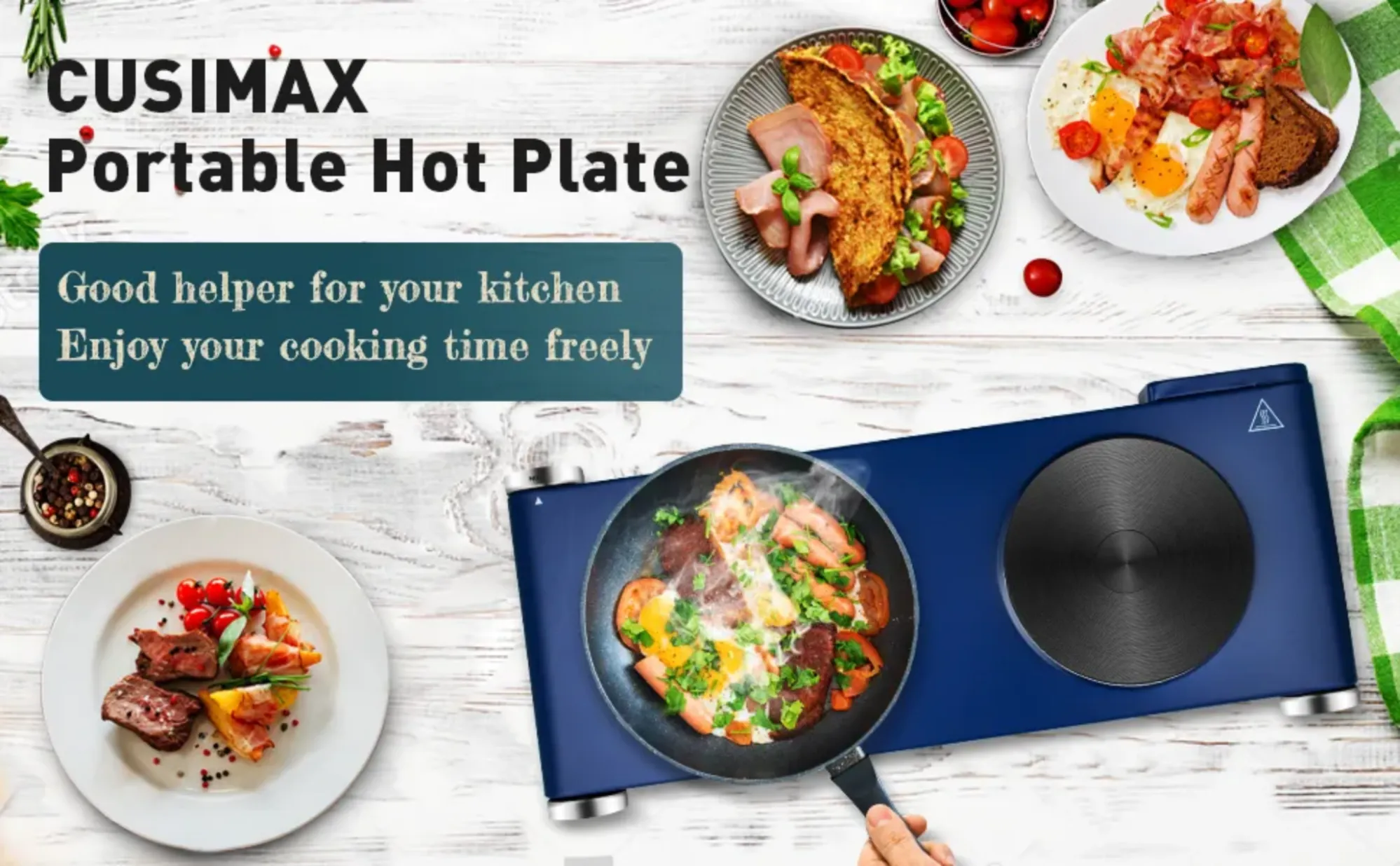 Cusimax Double Hot Plates Electric Cast Iron Dual Burner Works with All Types of Cookware
120V 900W+900W

No noise, No Electromagnetic Radiation

High Quality Cast Iron Plates

Stainless Steel Body, Blue

7 Thermostatically Controlled Heat Settings

Equipped with 7.4 + 6.1 inches Heating Plate

Compact Design Allows Cooking in Smaller Spaces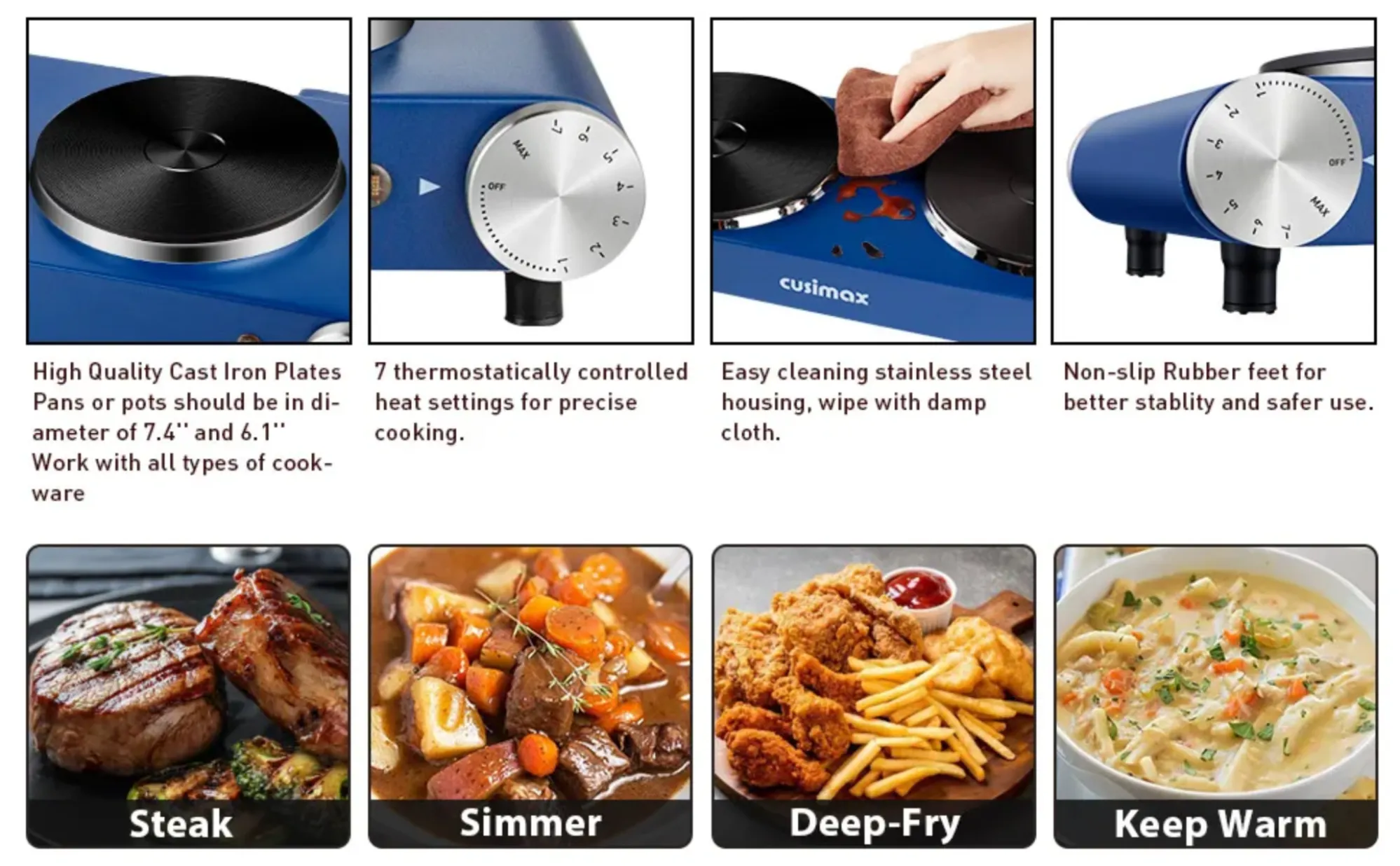 Convenient & Easy to Operate
Handy and Portable is the highlight of our Cusimax Double Hot Plate. It is not only adding cooking space to your kitchen but compact enough for storage.
Whether it's your home kitchen, apartment, RV, office or back garden, it can meet your different needs, and it is convenient for cooking in a smaller space.
The hot plate is equipped with individual variable temperature dials, 7 thermostatically controlled heat settings for precise cooking.
Simply turn the control knob to the desired position, it will maintain the steady temperature for your cuisine until the setting is changed.
Can be used as an extra cooking utensil in a busy kitchen. You can cook food without a stove, including hot sauce, decoct steak, simmer, boiling water, cooking soup, cooking pasta and vegetables, and more.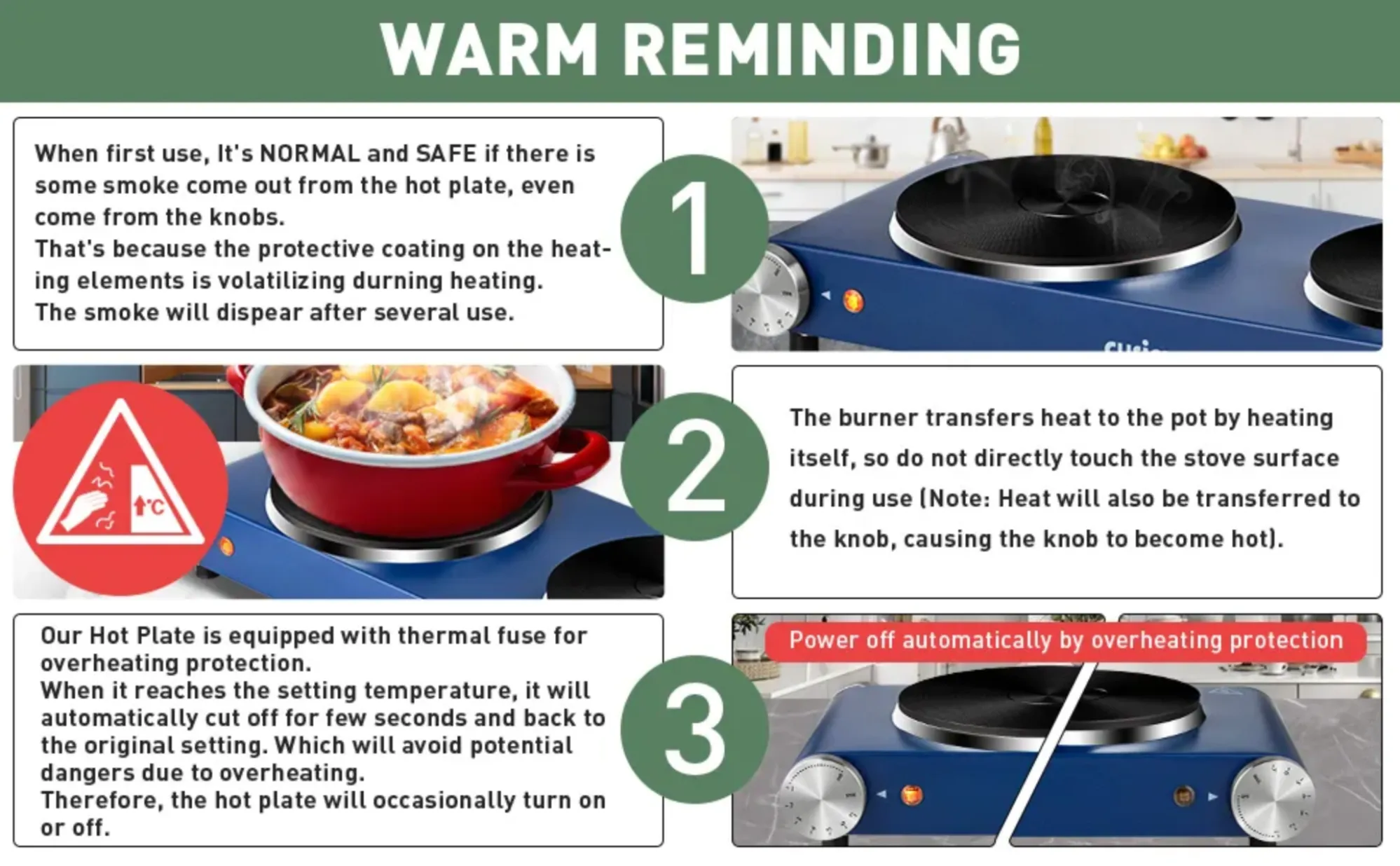 After the burner stops working, it takes about 20 minutes to cool down, which can better keep the food warm.

To make the burner work quickly: 1. Preheat before use; 2. Use a pan to cook as much as possible; 3. Use a lid when cooking.

Since the hot plate emits heat when in use, please place it on a

high temperature resistant surface!