Item weight:10.2KG
Product parameters:220V/50Hz 1600W
Product Dimensions: 45.4*42.29*42cm
The hot air fryer oven allows healthy and low-calorie frying. The combination of 360° convection circulating hot air and the perfect cooking temperature ensures that the food becomes crispy and the meat becomes juicy. So this all-in-one hot air oven can replace a hot air fryer, deep fryer, microwave, toaster and pizza oven, saving space in the kitchen.
The operation of the device should be simple and intuitive and the display shows the selected parameters clearly. The hot air fryer has various pre-installed programs (e.g. French fries, rotary taps, dehydrator etc.), which you can select in the menu by turning the wheel, or you can manually set anything i.e. temperature and time.
With the large capacity of 14.5 litres and the power of 1600 watts, the hot air fryer allows you to quickly prepare lots of food, chips, meat, fish or more delicious for your family and friends, bring them with a unique taste experience and healthy crispy whenever you want.
The compact and elegant design of this airfryer oven saves you even more counter space. The high-quality stainless steel makes cleaning easier. Includes: Drip tray x1, cage tongs x1, chicken fork x1, wire mesh x1, upper basket x1. Cleaning the individual inserts is also a piece of cake, all accessories are dishwasher safe. It is an essential kitchen utensil for every family.
We offer 18 months warranty and lifetime support. If you have any problems or doubt about the product, please contact us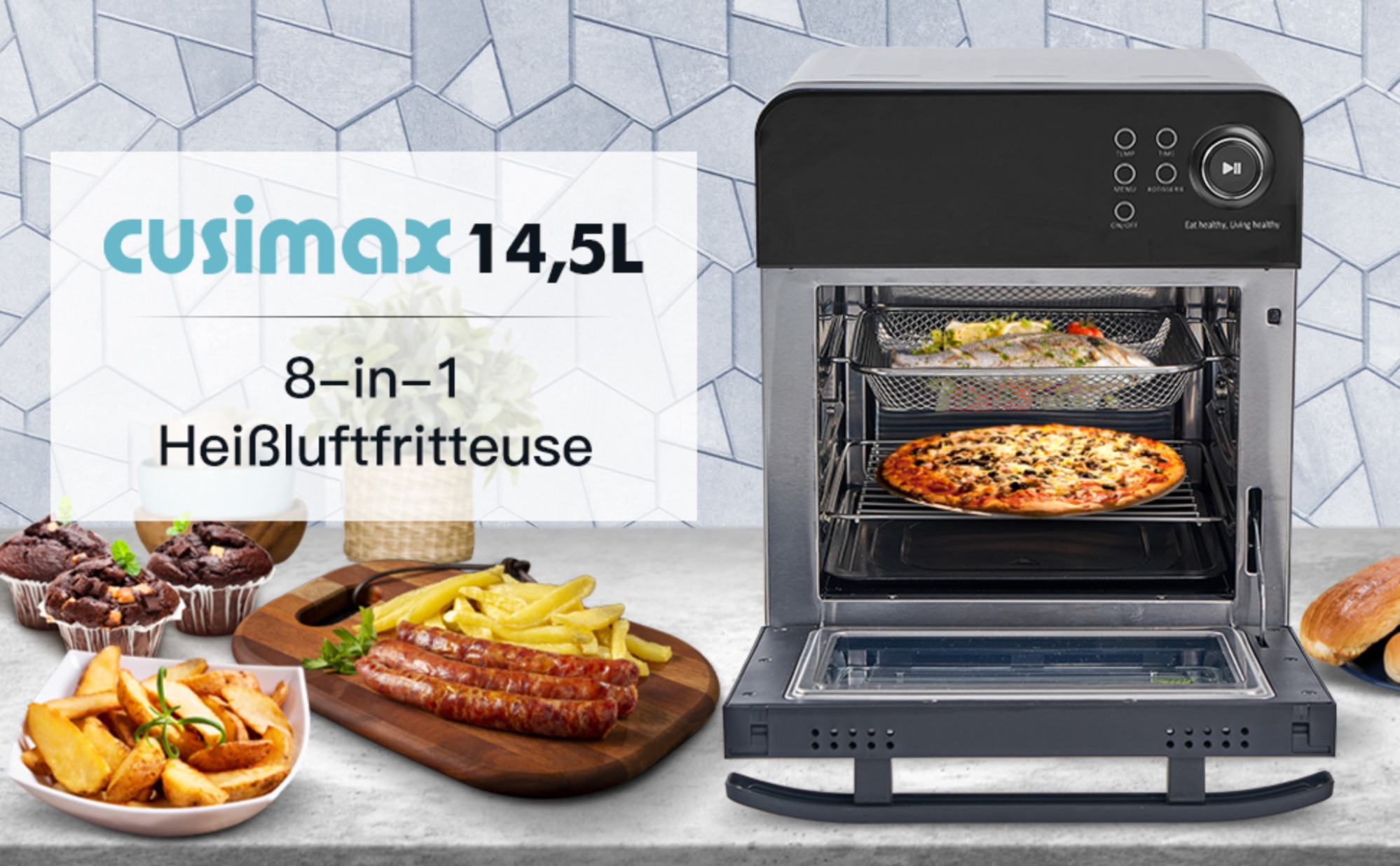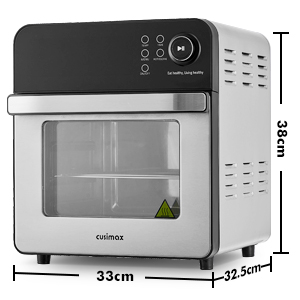 Satisfy your daily needs
This intelligent hot air fryer cooks food faster and more evenly thanks to 360° hot air circulation. The powerful screen allows you to quickly and intuitive display of time and temperature or adjust cooking mode, time and temperature to suit your preferences. With a large capacity of 14.5 litres, the hot air fryer becomes a kitchen utensil that every family with 3 to 6 people should have.
8 intelligent presets 40℃-230℃ temperature range 1min-480min time range Transparent viewing window Automatic pause and resume Digital control system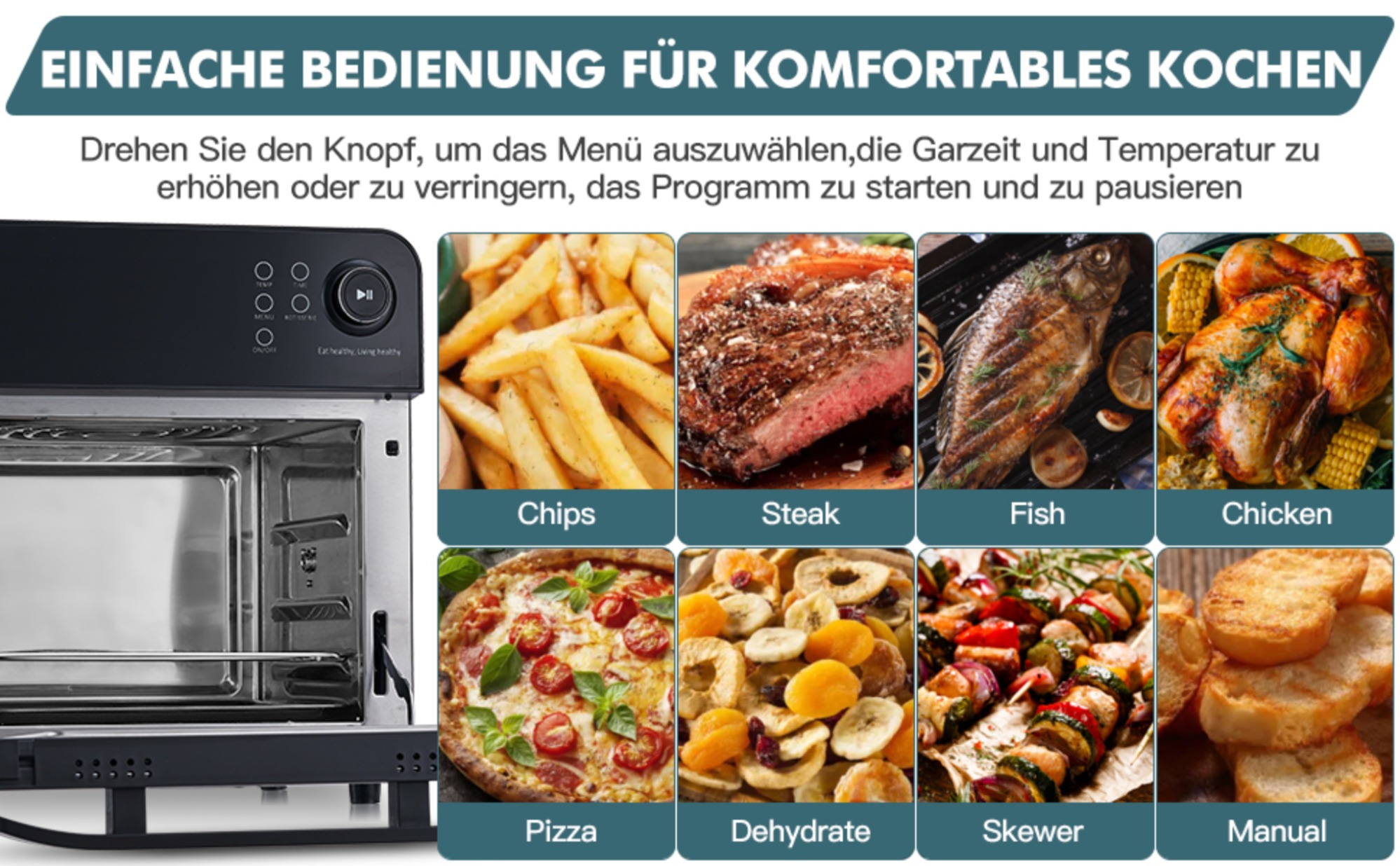 One button control
Multiple functions on the control panel and a large and easy-to-read display offer a wide selection to personalize your cooking according to your wishes.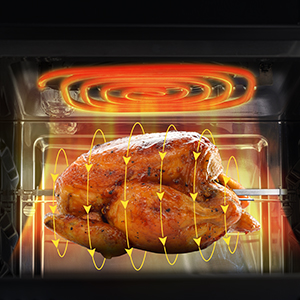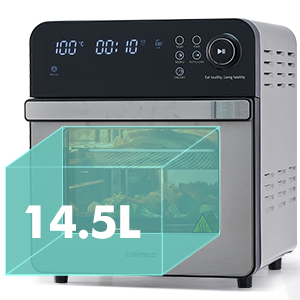 1.Fast and efficient----1600W high power and 360° hot air circulation ensure that this hot air fryer can quickly prepare food and keep crispy.
2.Large capacity----With a large capacity of 14.5 litres, you can put more food into the oven at the same time.
3.Convenience----The built-in oven lighting allows you to see the changes in food at different times during the cooking process.