Product parameters:120V/60Hz 1500W
Item weight:8.77LB
Product Dimensions: 20.67*10.83*7.28(IN)
[Multi-Function Grill] Reversible non-stick grill pan to meet your grilling, pancake needs, save the trouble of pulling out other equipment.
[Temperature Adjustable] It can grill all kinds of meat and seafood, and can also be used to make omelette pancakes, pancakes, etc. The temperature can be adjusted according to your needs.
[8 Individual Raclette Trays] 8 heat-resistant trays, can be used to make 8 dishes, such as cheese, dessert or vegetables, etc.
[Portable And Easy To Clean] Non-stick coating makes food scraps come off easily. The 19*9 inch size can be easily stored and moved.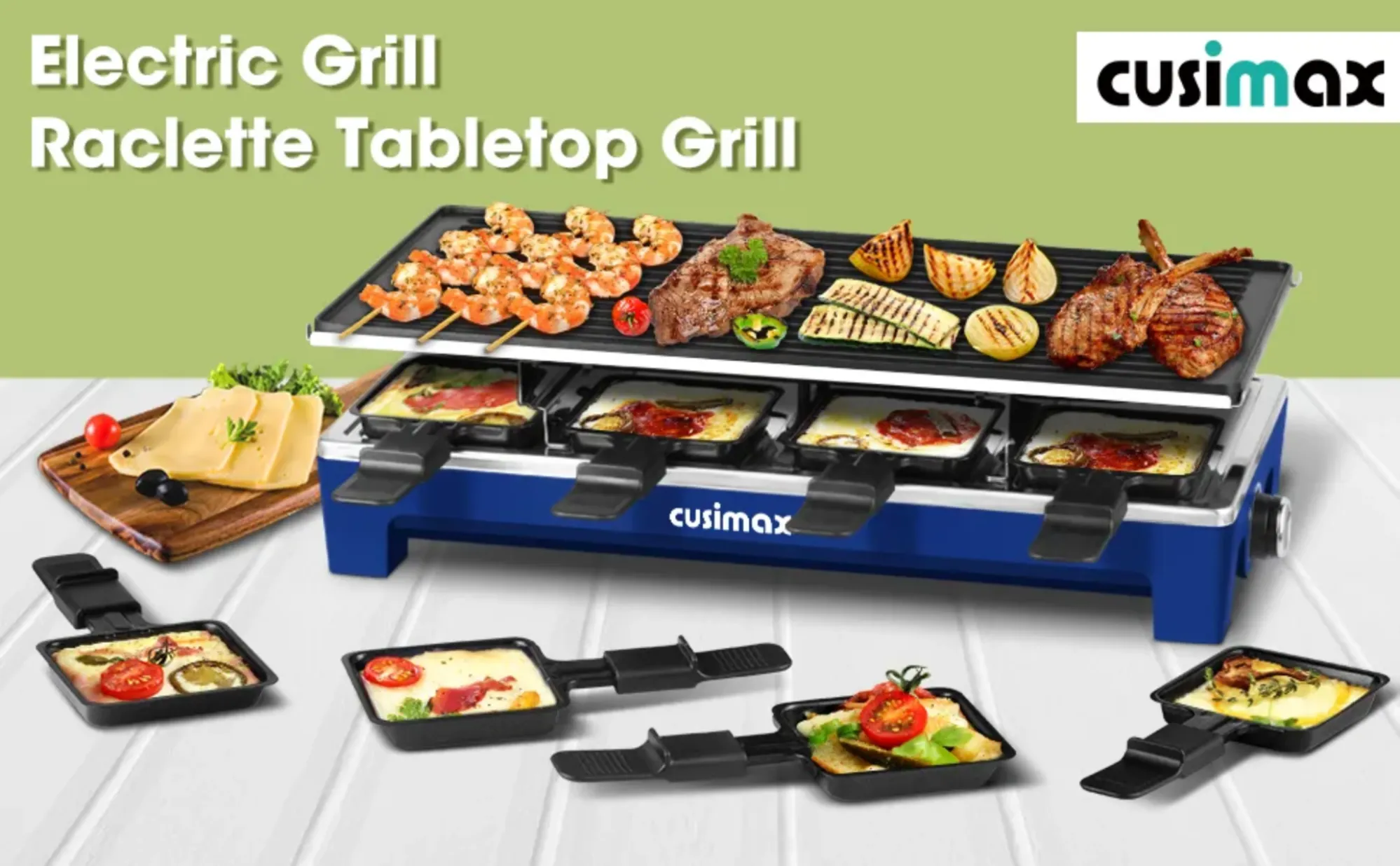 CUSIMAX Raclette Grill is very suitable for friends gatherings and family gatherings.
The electric barbecue table can share delicious and healthy barbecue food with family or friends of up to 8 persons at the same time.
1500W power can range from warm to scorching temperature 374-446°F, suitable for roasting all kinds of food.
At this moment, enjoy the food moment together:)
Your portable social restaurant!
Ideal for family gatherings and friends parties.

The indoor table grill is suitable for baking all kinds of meat, seafood, vegetables or eggs, crepes and pancakes.

You can easily complete a whole day's meals on one machine.
Pre-heat for better grilling effect.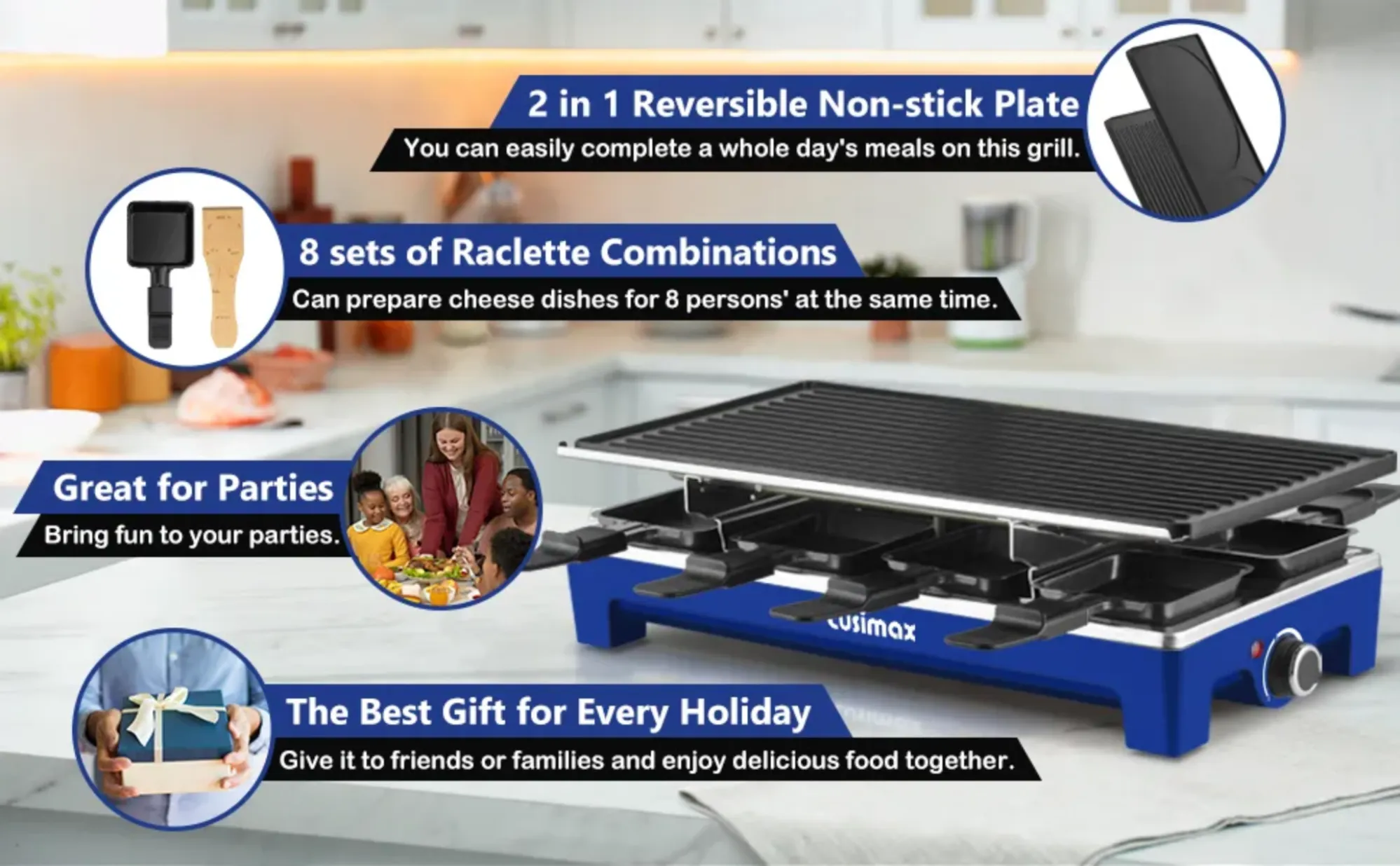 The 2 in 1 reversible non-stick bakeware provides two grilling methods.
The flat surface can make delicious crepes, pancakes and breakfast foods.
The grooved surface can produce grilled food, various meats, vegetables, seafood, etc., and easily remove excess oil, providing healthy and delicious grilled food.
Product Features:
120V 60HZ 1500W

Reversible Non-stick plate

Adjustable temperature control 374-446℉

Large grill plate 19 x 9 inchs

8 Independent Raclette Trays & Wooden Shovel
CUSIMAX Raclette Electric Grill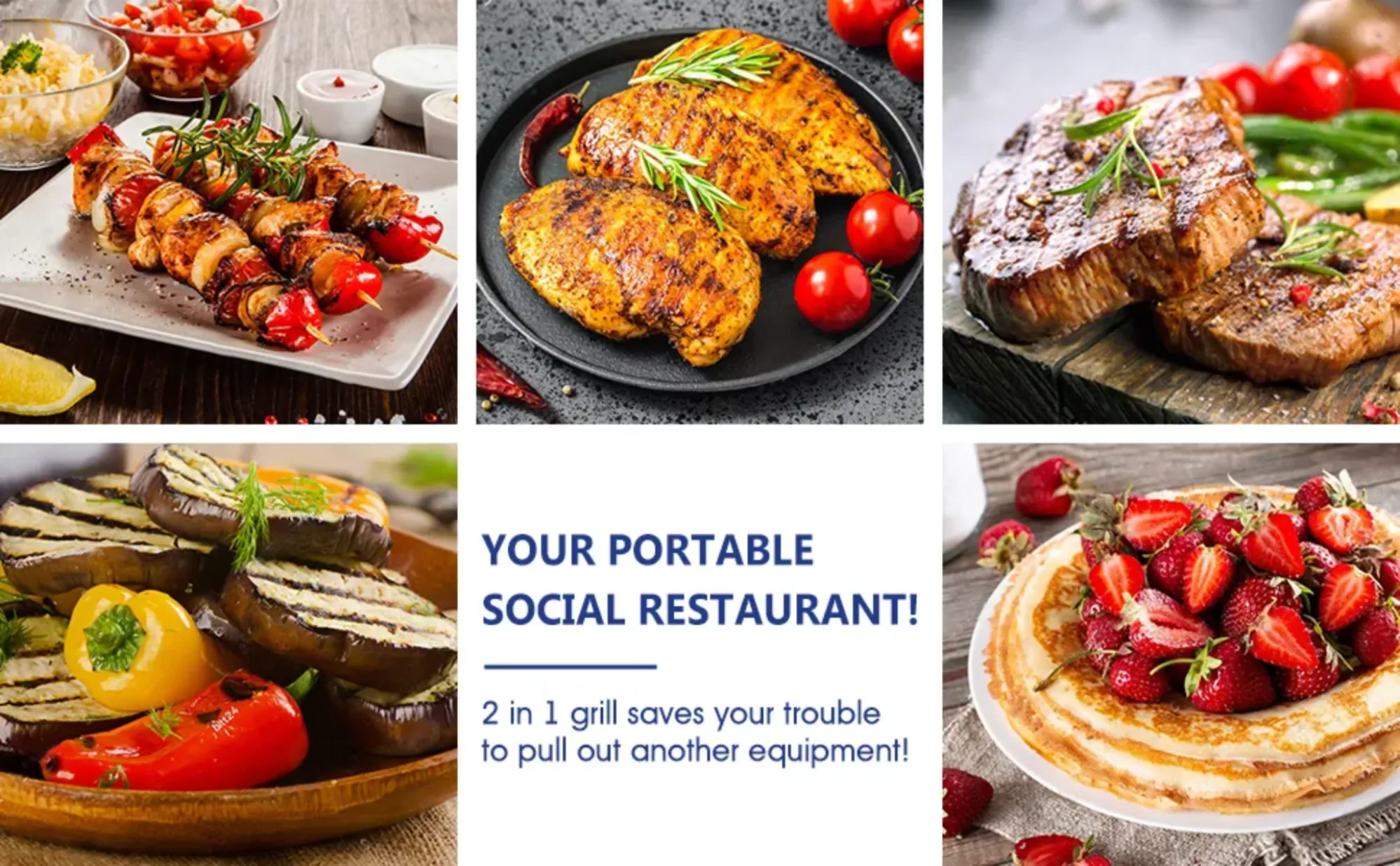 Overview

Product Parameters

Voltage
120V
Product dimension
7.36"D x 20.47"W x 11.22"H
Watt
1500W
Item weight
8.77LB
Frequency
60Hz
Category
Indoor Grill

[Multi-Function Grill] Reversible non-stick grill pan to meet your grilling, pancake needs, save the trouble of pulling out other equipment.

[Temperature Adjustable] It can grill all kinds of meat and seafood, and can also be used to make omelette pancakes, pancakes, etc. The temperature can be adjusted according to your needs.

[8 Individual Raclette Trays] 8 heat-resistant trays, can be used to make 8 dishes, such as cheese, dessert or vegetables, etc.

[Portable And Easy To Clean] Non-stick coating makes food scraps come off easily. The 19*9 inch size can be easily stored and moved.

CUSIMAX Raclette Grill is very suitable for friends gatherings and family gatherings.

The electric barbecue table can share delicious and healthy barbecue food with family or friends of up to 8 persons at the same time.

1500W power can range from warm to scorching temperature 374-446°F, suitable for roasting all kinds of food.

At this moment, enjoy the food moment together:)

Your portable social restaurant!

Ideal for family gatherings and friends parties.

The indoor table grill is suitable for baking all kinds of meat, seafood, vegetables or eggs, crepes and pancakes.

You can easily complete a whole day's meals on one machine.

Pre-heat for better grilling effect.

The 2 in 1 reversible non-stick bakeware provides two grilling methods.

The flat surface can make delicious crepes, pancakes and breakfast foods.

The grooved surface can produce grilled food, various meats, vegetables, seafood, etc., and easily remove excess oil, providing healthy and delicious grilled food.

Product Features:

120V 60HZ 1500W

Reversible Non-stick plate

Adjustable temperature control 374-446℉

Large grill plate 19 x 9 inchs

8 Independent Raclette Trays & Wooden Shovel

CUSIMAX Raclette Electric Grill