Cusimax Home Ice Cream Maker has a built-in refrigeration compressor that cools the mix unlike older ice cream makers that required a pre-frozen bowl. Allows you to make the delicious ice cream, yogurt, sorbet, frozen juice, etc. you want in a short time.

The Cusimax automatic ice cream machine is easy to operate, just add the ingredients to the bowl, lock the lid, press the power and menu buttons, select the ice cream mode, and you can make ice cream within 30 minutes. After the end, the sorbet machine will automatically freeze for 1 hour without other operations.

The 1.1-quart aluminum bowl holds 5 cups yogurt or 9 gelato balls and more at a time. Ice cream can be made continuously without the need to refreeze the container. Use pure and healthy raw materials to realize the freedom of ice cream and yogurt, and you can DIY your own ice cream flavor without buying.

The ice cream bowl, mixing blade and lid are all removable for easy cleaning with water. Note: Do not put any parts in the dishwasher. The electric ice cream maker is compact, easy to store and place on the countertop, and the non-slip feet at the bottom ensure the stability of the device during use.

All Cusimax products have ETL product certification and 18-month warranty. If you have any questions about our electric automatic ice cream maker, please feel free to contact us.
Product Details
Brand
CUSIMAX
Model
CMIC-1031
Power
120V-60Hz
Weight
19.4LB
Size
16.14*12.28*10.79 Inch
Color
White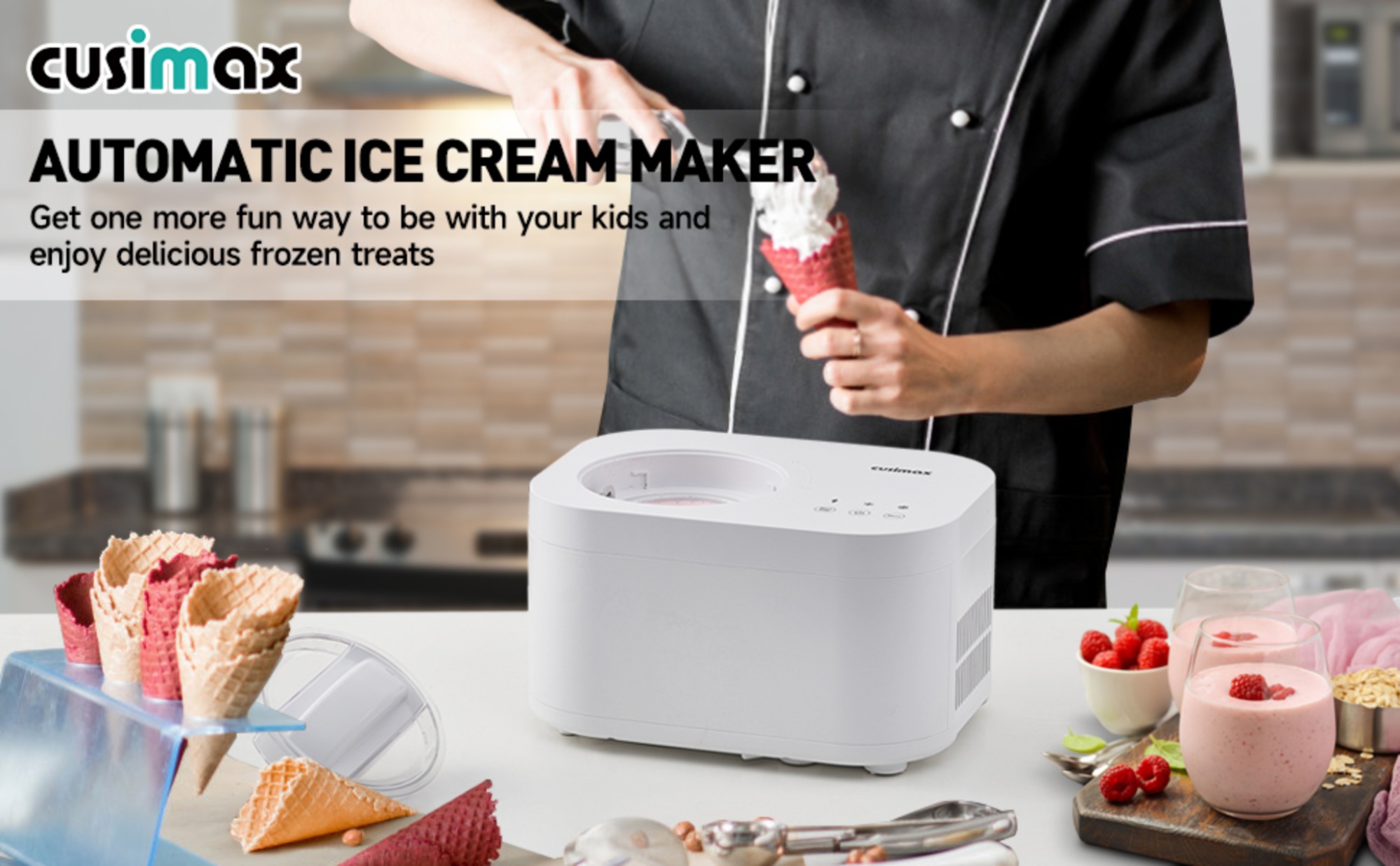 CUSIMAX automatic ice cream maker machine with compressor, let you and your family enjoy homemade ice cream, sorbet or frozen yogurt according to your taste, fulfills all your sweet and cold wishes at the push of a button, without pre-cooling.
To ensure that your sweet creations remain fresh after the preparation time has elapsed, the automatic post-cooling function keeps your ice cream cold for 1 hour.
White plastic housing is not only stylish to look at and fit your countertop, but also extremely robust. With its compact dimensions of 35.5*26*26.6 cm, the space saver fits easily into small kitchens and is easy to stow away.
Enjoy When You Want! Pure and Simple Indulgence!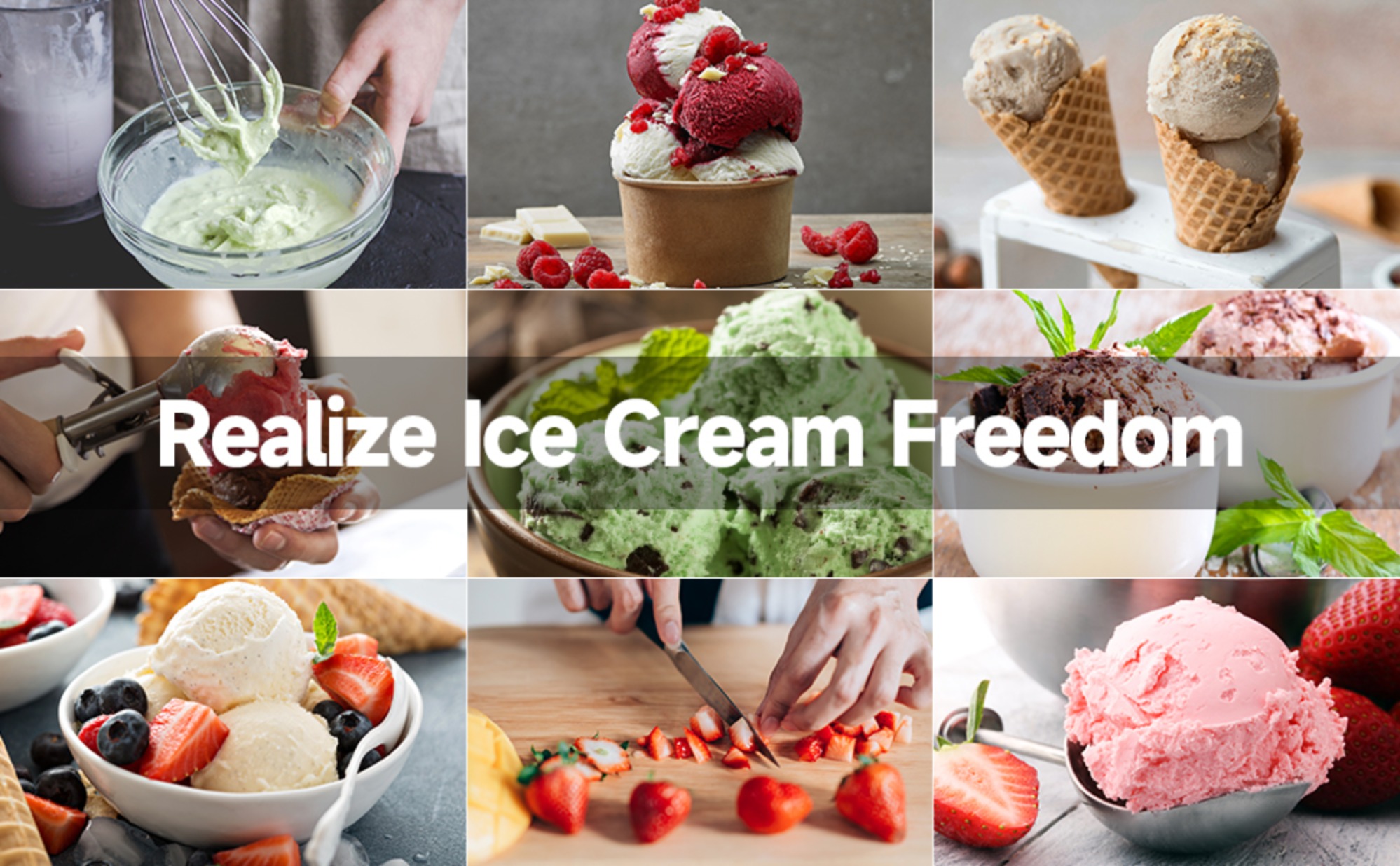 Easy-lock Lid Transparent to let you watch the freezing process as it progresses.
Mixing Paddle mixes and aerates ingredients in freezer bowl to create frozen desserts or drinks.
1.1qt aluminum container comfortably accommodates up to 3-4 servings of cold creations.
(In principle, only fill the container up to 2/3 - i.e. leave 1/3 empty, as the ice cream expands when being formed.)
Equipped with a side tuyere to rapidly dissipate heat, ensure a longer product lifetime.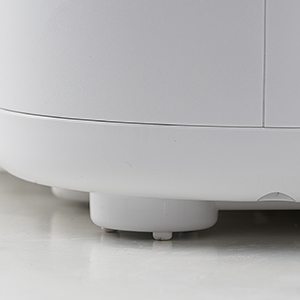 The non-slip feet keep the gelato maker base stationary during use.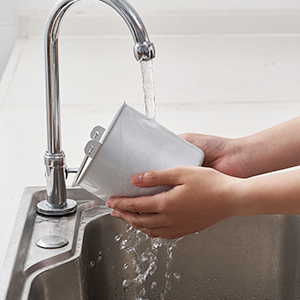 Bowl, paddle and lid are Removable, which can be cleaned with water effortlessly, do not place any parts in the dishwasher.