Product parameters: 120V/60Hz
Item weight:19.01LB
Product Dimensions: 14*10.24*10.47(IN)
[Quick Make] Cusimax home ice cream maker has its own compressor that doesn't require ice, salt or pre-freezing the bowls, it chills the mix without all that headache. With it, you can make the Gelato, Sorbet, Frozen Yogurt, Frozen Margaritas, or chilled wine, lime juice, etc. in a short time.
[Easy Operation] Choose between: Cooling Mode, Mixing Mode or Ice Cream Mode. Fully automatic operation, simply add the ingredient mixture and press the button, ice cream maker will create your frozen treats within 30 minutes. Ice cream ready but no one operate? Don't worry, after the ice cream mode ends, it will hold the ice cream for 1 hour in the chilled state.
[Large Capacity] 1.1Qt Volume bowl constructed of food-grade aluminum can make 3-4 servings of ice cream at once, you can make consecutive tubs because you don't have to refreeze the container in between batches. perfect for party time and snack time.
[Healthy & Delicious] In a one more fun way, to create and enjoy frozen treats with your family and friends, whenever you want! DIY your special flavor with daily ingredients, chocolate, coffee, cocktail, biscuits or nuts, or fresh fruit. Less fat and sugar, additives and preservatives than commercial ice cream.
[Clean & Store Easily] The bowl, mixing blade and lid are Removable, which can be cleaned with water effortlessly, do not place any parts in the dishwasher. Compact in size makes it easy to store and place on your countertop. Its'anti-slip feet ensure the necessary stability of the device during operation.
Tips: 1. ONLY test it with ice cream mixture. DO NOT test with water or in empty. 2. Rotate the lid until the △ is on the "LOCK" position and you can hear a sound.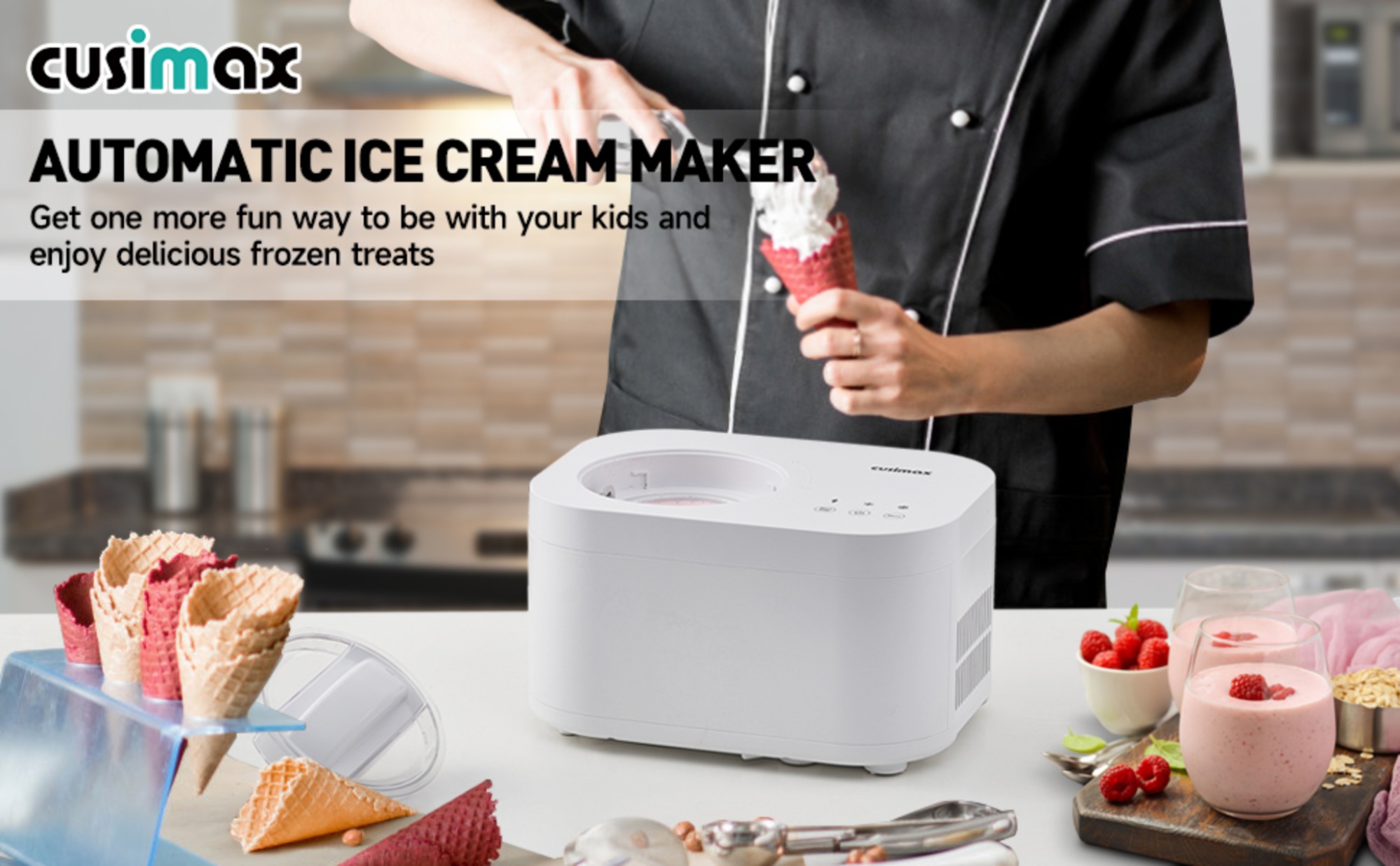 CUSIMAX automatic ice cream maker machine with compressor, let you and your family enjoy homemade ice cream, sorbet or frozen yogurt according to your taste, fulfills all your sweet and cold wishes at the push of a button, without pre-cooling.
To ensure that your sweet creations remain fresh after the preparation time has elapsed, the automatic post-cooling function keeps your ice cream cold for 1 hour.
White plastic housing is not only stylish to look at and fit your countertop, but also extremely robust. With its compact dimensions of 35.5*26*26.6 cm, the space saver fits easily into small kitchens and is easy to stow away.
Enjoy When You Want! Pure and Simple Indulgence!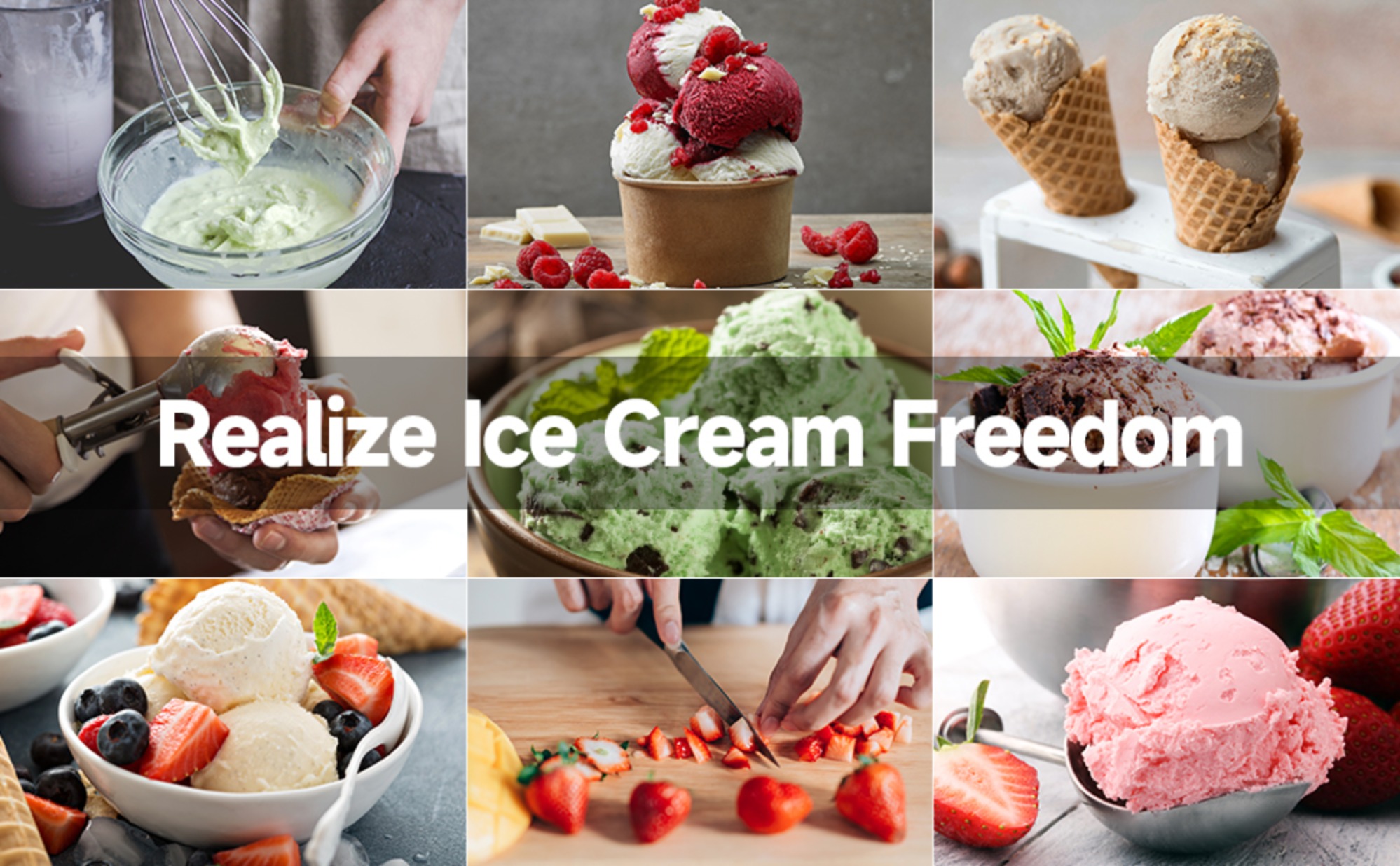 Easy-lock Lid Transparent to let you watch the freezing process as it progresses.
Mixing Paddle mixes and aerates ingredients in freezer bowl to create frozen desserts or drinks.
1.1qt aluminum container comfortably accommodates up to 3-4 servings of cold creations.
(In principle, only fill the container up to 2/3 - i.e. leave 1/3 empty, as the ice cream expands when being formed.)
Equipped with a side tuyere to rapidly dissipate heat, ensure a longer product lifetime.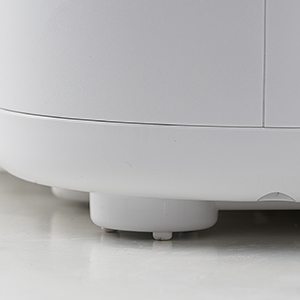 The non-slip feet keep the gelato maker base stationary during use.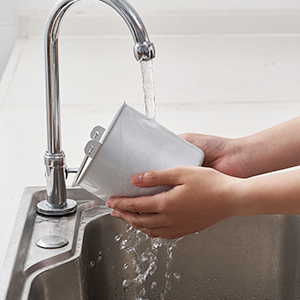 Bowl, paddle and lid are Removable, which can be cleaned with water effortlessly, do not place any parts in the dishwasher.